(In front of the Gate)
At 9:30am, mixer trucks and dump trucks in the total of 111came to the Gate. At 12:30pm 107 trucks, and 3:00pm 100 trucks. The total that went through the Gate for the day was 318. All of them carried crashed stones to be used for the foundation of N4 seawall. Eight people from a farming equipment company in Kyoto stood across the street from the Gate and watched the riot policemen removing the protesting citizens. They stopped by during their rest and recuperation trip provided by the company. That is good. It means that Henoko issue is drawing peoples' attention in the mainland. I hope that more people will see what goes on in front of the Gate and wipe away the false rumors spread by the right-wing people.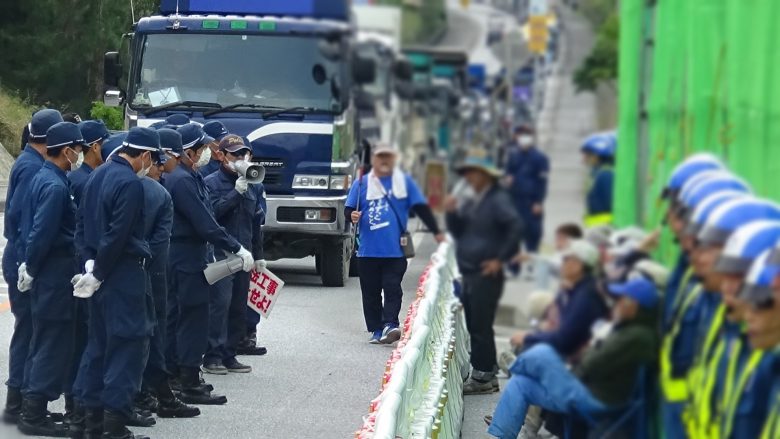 (In front of Ryukyu Cement Pier)
All day long, dump trucks delivered dirt and sand. A group of 10 protesters were easily removed by several riot policemen. Deliveries of 594 truckloads were made, and 3 carrier boats left the Pier.
(On the sea of Oura Bay)
Three boats and 11 canoes were out on the sea to protest and confirmed that dirt and sand were unloaded at K9 seawall and that the construction work was in progress at N4 seawall. Eleven canoes went over the float toward N4, and one of them maneuvered out the Coast Guard. It reached the work site of N4 and successfully stopped the crane for a while. In a shallow water, the rubber boats of the Coast Guard cannot operate. We shouldn't feel that we accomplished something, but it was an amusing and gratifying day.
A German TV crew was on site to make a report.