February 25, 2019 Ryukyu Shimpo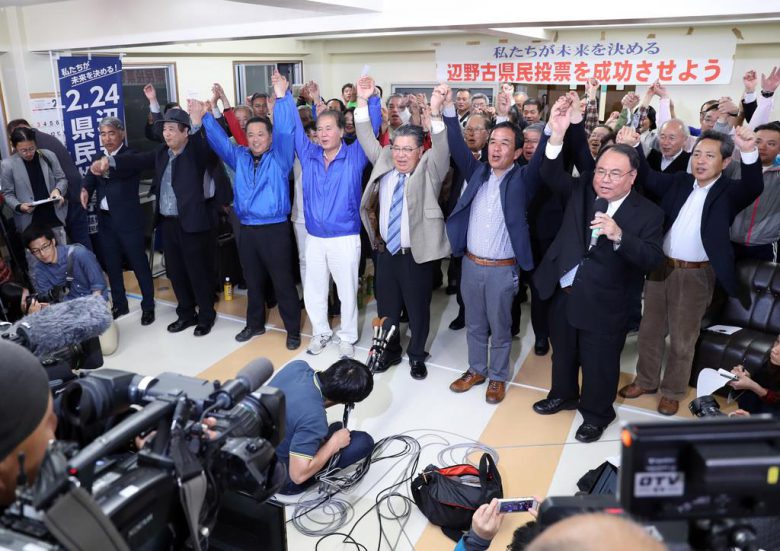 On February 24, a prefectural referendum was held asking Okinawan voters about their approval or disapproval of the land reclamation work as part of construction of the Futenma Replacement Facility (FRF) taking place on the shore portion of Camp Schwab.
According to results of same-day vote counting, in which 100 percent of the ballots were counted, 72.15 percent voted "no" to land reclamation, accounting for 434,273 individual votes.
Since more than one-fourth of registered voters (a total of 37.65 percent) selected "no" to land reclamation, the prefectural referendum ordinance states that the result should be respected, and requires a compulsory notification to the Prime Minister of Japan and the President of the United States.
Okinawa Governor Denny Tamaki stated that Okinawans have "once again put their bodies and souls into halting construction of the new base," and stressed the possibility of requesting a review of the government's method for closing and returning Futenma Air Station as soon as possible.
He is planning a visit to Tokyo, soon, to deliver notification of the prefectural referendum results.
Prime Minister Shinzo Abe has indicated he is willing to have a discussion with Governor Tamaki within the week, if Governor Tamaki is so inclined.
Voter turnout exceeded half at 52.48 percent. Out of the total 601,888 votes cast, those who answered "yes" to land reclamation numbered 114,933 at 19.10 percent, and those who answered "neither" came to 52,682 at 8.75 percent.
Although the prefectural referendum is not legally binding, from here on out a focal point for the U.S. and Japanese governments will be deciding how to respond to the will of the Okinawan people as FRF construction moves forward.
Over the 23 years since 1996 when the U.S. and Japanese governments agreed to close Futenma Air Station, Okinawa has demonstrated its clear opposition to construction of the FRF through channels such as gubernatorial and national elections, and now even in a prefectural referendum asking directly about the construction of the replacement facility.
Voter turnout in the prefectural referendum fell about 10 points short of the 63.24 percent turnout in the September gubernatorial election last year.
However, "no" votes to land reclamation outnumber the 396,632 votes polled in favor of Denny Tamaki for governor.
Henoko Kenmin Tohyo no Kai (represented by Jinshiro Motoyama), the group that directly appealed for a prefectural referendum ordinance in this matter, issued a statement upon hearing the results of the referendum.
It emphasized, "Now that clear opposition [to base construction in Henoko] has been demonstrated, it comes to question whether people on the mainland will individually recognize themselves as concerned parties, seeing as [the U.S.-Japan] security treaty and the relocation of Futenma Air Station outside of Okinawa or outside of Japan are matters for nationwide discussion.
" Additionally it stated, "The central government should renegotiate with the U.S. government, with removing the risk of Futenma Air Station [its closure and return] as the top priority. It should also immediately consider a policy that does not involve relocation within Okinawa."
In 1996, there was a prefectural referendum that asked citizens about their support of base consolidation and reduction as well as revision of the U.S.-Japan Status of Forces Agreement (SOFA). At that time 89.09 percent voted in favor of these matters, which accounted for a majority of registered voters (53.04 percent). Voter turnout in the 1996 referendum was 59.53 percent.
(English translation by T&CT and Erin Jones)