(In front of the Gate)
Upon the news of overwhelming victory in the referendum, a large number of people came to the Tent village. All those gathered from within and outside of Okinawa shared the joy of the victory. Governor Tamaki Denny stated in a news conference.
"The will of Okinawa people is clearly indicated. The Administration should immediately stop the work in progress and come to the table to talk."
The Administration publicly noted, "The construction work in progress will not be stopped to avoid a delay in the schedule."
At 9:00am, mixer trucks and dump trucks lined up to go through the Gate as usual. Those who protested in the sit-in called aloud.
"Stop the work immediately!"
"Do not ignore the will of the people!"
To the riot policemen who removed the protestors without a trace of remorse, Mr. Yamashiro Hiroji, the leader of the protest "In front of the Gate" spoke up aloud.
"You work in the public service, you should respect the will of the people. You should not raise your hand against the citizens. Okinawa people are angry at you for forcibly removing us. Your invite Okinawa people to come to the Gate."
Three times a day, 299 truckloads in total were delivered for the day.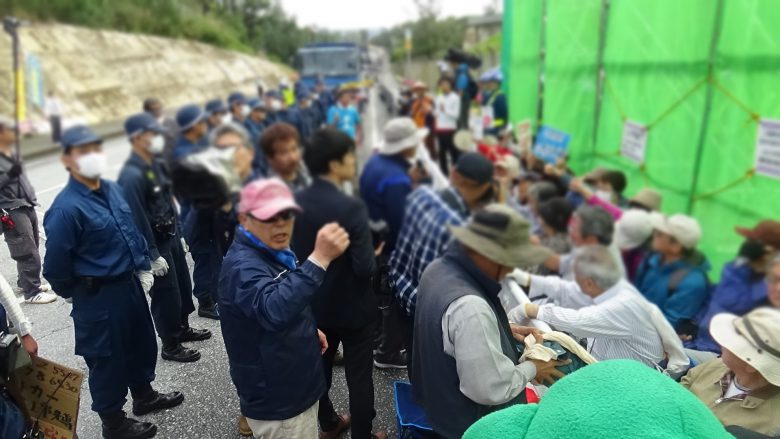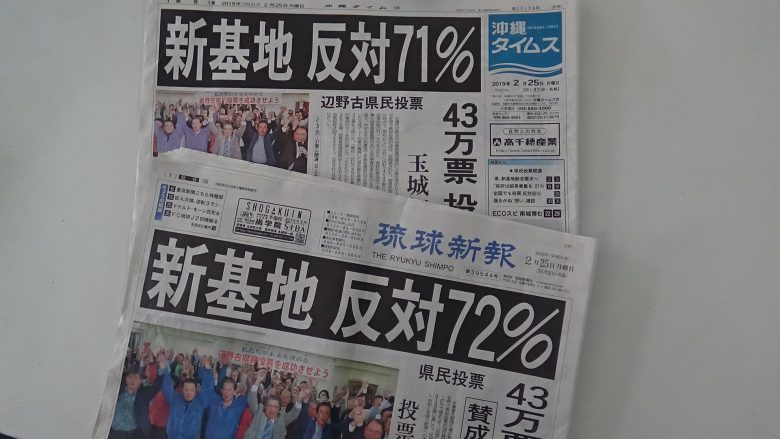 (On the sea in Oura Bay)
Two boats and 11 canoes were out on the sea to protest. In spite of the fact that overwhelming NO to "the construction of the new base" won the referendum, the construction workers continued their work. To them, the protestors called aloud.
"Do not betray Okinawan!"
"Don't pollute the sea anymore!"
The Coast Guard men jumped into the sea to remove the canoes trying to go over the fences.
The captain of one of the protest boats, Ms. Yamaguchi Yoko stated angrily.
"What is the government for if it ignores the will of the people completely?"
(In front of the Pier in Awa)
All day long, deliveries of dirt and sand were made. The total deliveries for the day was 583 truckloads to the Pier, and 3 carrier boats left the Pier to Henoko.