KYODO NEWS Feb 25, 2019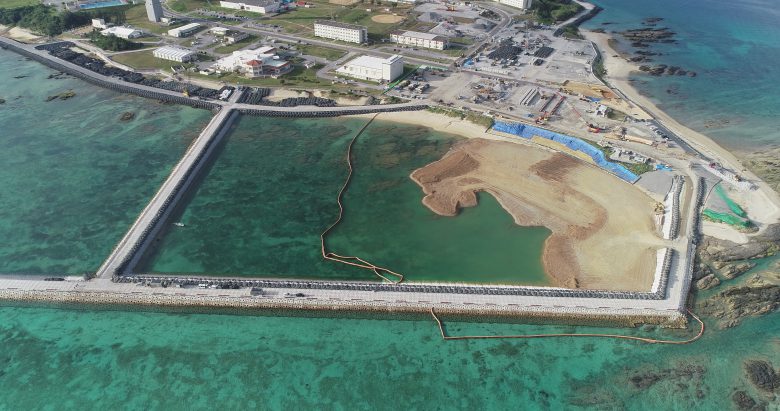 More than 70 percent of voters in Okinawa rejected a decades-old plan to relocate a U.S. air base within the prefecture in a referendum on Sunday, giving fresh impetus to the Okinawa government's attempt to stop the transfer.
The prefectural referendum is viewed as no more than symbolic, however, as the result is not binding on Prime Minister Shinzo Abe's government, which has already pushed ahead with work to build a replacement facility for U.S. Marine Corps Air Station Futenma.The central government will stick to the plan but may face public backlash if it continues to ignore the Okinawa people, possibly harming the ruling party's prospects in this year's upper house and local assembly elections.
The number of "no" votes also exceeded the one-quarter threshold obliging Okinawa Gov. Denny Tamaki to abide by the outcome. Abe and U.S. President Donald Trump will be notified of the outcome as stipulated by the referendum ordinance when any of the options is approved by a quarter of eligible voters.
The turnout was 52.48 percent, according to the prefecture, topping the 50 percent line seen as giving legitimacy to the referendum. The figure compares with 59.53 percent in the previous referendum on scaling back U.S. bases in Okinawa and reviewing the Japan-U.S. Status of Forces Agreement in 1996, and 63.24 percent of September's gubernatorial election in which Tamaki won as he campaigned to block the relocation plan.
(Photo taken Feb. 16, 2019, from a drone shows the relocation site for U.S. Marine Corps Air Station Futenma in the Henoko coastal district of Nago.)
"This is the first time that opposition specifically to the plan…was clearly shown so it bears significant meaning," Tamaki told reporters after the result was finalized.
"I fully take the people's resolution, and strongly call on (the central government) to stop the relocation work," he said.
According to the prefecture, the number of "no" votes stood at 434,273 or 72.2 percent of the total voters, and topping 396,632 which Tamaki garnered in the September gubernatorial election.
Some 19.1 percent voted in favor of the plan while 8.8 percent voted "neither" in the referendum which asked whether they agreed with the landfill work being undertaken in a coastal area of Henoko to build the Futenma replacement facility.
In the referendum, the first of its kind that specifically focuses on the Futenma relocation issue, about 1.15 million Okinawa residents with Japanese citizenship aged 18 or over were eligible to vote.
Abe is considering meeting with Tamaki this week if the governor wants to, and at the meeting he will repeat the government's view that there is no other solution than the plan to relocate to Henoko, a government source close to Abe said.
(Okinawa Gov. Denny Tamaki)
According to exit polls with 1,760 voters, about 37 percent of "no" voters said they opposed the relocation plan as they think Okinawa needs no more bases, while nearly 82 percent of the total respondents said the central government should respect the outcome of the referendum.
Kodai Arakaki, 24, from Nago said he believes there will be no other option but to move the base to Henoko although he voted against the plan as he hopes the referendum "offers an opportunity for the central government and people in the country to understand Okinawa's situation."
A 40-year-old woman from Nago, who used to live in Ginowan, which hosts the Futenma base, voted in favor of the transfer plan as "settling the issue as soon as possible would be better for us than continuing to have trouble over new relocation sites."
The idea of holding a referendum in Okinawa was initiated by a civic group in the hope it would coalesce support for the prefectural government's efforts to stop the central government from proceeding with the landfill work for the replacement facility.
The plan to move the Futenma base from a crowded residential area of Ginowan to the less populated coastal zone of Henoko originated in an agreement reached between the Japanese and U.S. governments in 1996.
The central government has maintained that the current relocation plan is "the only solution" for removing the dangers posed by the Futenma base without undermining the deterrence provided by the Japan-U.S. security alliance.
Many residents have long hoped for the Futenma base to be moved outside of Okinawa, which continues to host the bulk of U.S. military facilities in Japan as a legacy of the U.S. military occupation of the prefecture from the end of World War II to 1972.
The island prefecture's location is also seen as important for U.S. security interests in East Asia.
Residents already showed their opposition to the relocation plan in previous gubernatorial elections, including the last one in September in which Tamaki defeated a rival backed by Abe's Liberal Democratic Party. Tamaki campaigned heavily on an anti-base platform like his predecessor who died of cancer.
The referendum was initially planned as a yes-no vote. But the prefectural assembly ended up passing a revised ordinance on Jan. 29 to add the choice of "neither" to bring in five cities including Ginowan that had refused to participate, arguing a binary referendum would not truly reflect the "diverse" opinions among residents.
Prior to the referendum, some voters expressed concern that a rejection of the plan could lead to the Futenma base remaining in its current location, while others questioned whether Okinawa should sacrifice the marine ecosystem off the Henoko coast — home to an endangered species of dugong — for the land reclamation work.
Supporters of the relocation plan ran a campaign that was largely perceived as low-key.
In Okinawa's first prefectural referendum in 1996, nearly 90 percent voted in favor. No other referendums have ever been conducted at the prefectural level in Japan.
Chronology of events related to U.S. Futenma base in Okinawa
September 1995 — Three U.S. servicemen rape local schoolgirl in Okinawa, causing widespread anger among local residents.
April 1996 — Japan, United States agree on return of Futenma base within five to seven years and to transfer its functions to other locations within Okinawa.
December 1999 — Japanese government decides at Cabinet meeting on plan to move Futenma's functions to Henoko.
March 2013 — Government submits application for landfill to build replacement facility for Futenma base in Nago to Okinawa prefectural government.
December — Okinawa Gov. Hirokazu Nakaima approves land reclamation to build replacement facility.
November 2014 — Takeshi Onaga, former Naha mayor and opponent of relocation plan, is elected governor of Okinawa.
October 2015 — Onaga revokes Nakaima's approval for reclamation work, pointing to legal defects in his decision.
July 2016 — Government sues Okinawa over Onaga's failure to comply with order to rescind his revocation.
December — Supreme Court rules in favor of government, leading to resumption of base construction.
April 2017 — Government begins seawall work for new base.
July — Okinawa files lawsuit seeking halt of relocation work.
March 2018 — Okinawa District Court rejects prefectural government's lawsuit.
June — Defense Ministry notifies Okinawa of plan to begin reclamation work in August at earliest.
July — Onaga asks local officials to start procedures for retraction of approval for reclamation.
August — Onaga dies. Okinawa retracts approval.
September — Denny Tamaki, former opposition lawmaker opposed to relocation, is elected governor of Okinawa.
October — Land minister Keiichi Ishii announces invalidation of Okinawa's retraction of approval.
November — Okinawa files complaint about invalidation to state dispute-settlement panel.
December — Government starts full-fledged landfill work in Henoko.
Feb. 18 — State panel dismisses Okinawa's complaint.
Feb. 24 — Over 70 percent of voters reject Futenma relocation plan in prefectural referendum.