(In front of the gate)
The members, who always delay delivery of soil/sand by performing the Safe Driving Parade with cars in Awa, blocked 17 vehicles also at the gate of Camp Schwab. They blocked the vehicles that had completed delivery of the material from entering the national road so that private passenger vehicles would not be troubled. This delayed the delivery by 24 cement mixer trucks and six dump trucks planned to be done at 12:00. A big success! The riot police and prefectural police seemed to be disturbed by our unexpected movement. 186 vehicles delivered the material.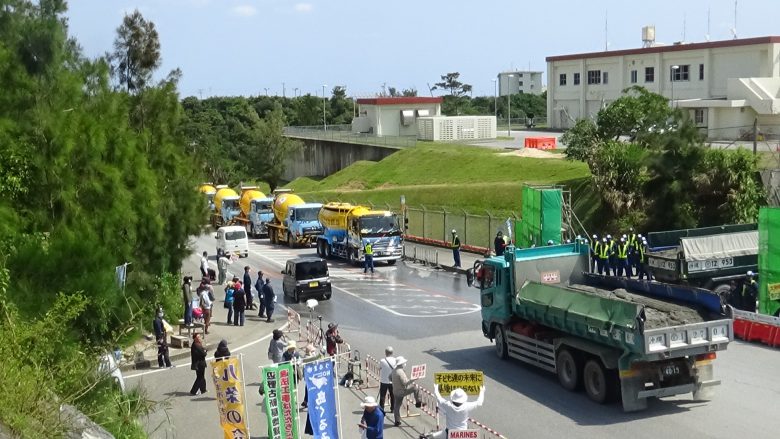 (Oura Bay Protest on the sea)
One protest boat and 11 canoes went for protest. The members tried to approach the K8 Seawall, saying "Don't destroy Oura Bay" or "Stop this illegal construction at once!", but were detained and brought back to the beach by the coast guard officers. The seawall has already been extended to be 40 m or more.
(In front of Ryukyu Cement Pier in Awa)
A coal ship was being pulled alongside of the pier, which seemed to be prepared for the original work of Ryukyu Cement, and no soil/sand carriers appeared. Soil/sand were not delivered this day.
(Others)
The pictures of the status of landfill work, taken by a drone on March 21, show a straight line of the landfill extending from Area 2-1 to the left, Area 2. Mr. Masanori Okuma, a civil engineer, assumes that this seawall will be probably linked with N5 Seawall to be used as a delivery root for Area 2 where dumping of soil/sand will be started on March 25. A picture below, taken on March 16, shows the situation of the K8 Seawall. Mr. Okuma obtained the length of the seawall, using the number of the armor blocks that have been placed. He is confident in his assumption that the current length of the seawall is 42.84 m, based on the width of an armor block, 2.52 m, with an error estimated to be within several centimeters even if it recognized. The government of Japan must be afraid of disclosure of these pictures. A bill prohibiting drone flights over the U.S. military bases, the office of Prime Minister etc. will be submitted to the current Diet session. They are trying to deprive the citizens of the freedom of news gathering on the construction of the U.S. military bases, using the excuse of security of the Olympic games or the office of Prime Minister.