April 14, 2019 Ryukyu Shimpo
On the morning of April 13 a 44-year-old Japanese woman and a 32-year-old U.S. Navy sailor assigned to a Marine Corps unit in Okinawa were found dead in a bloody apartment bedroom in Kuwae, Chatan Town.
According to the prefectural police, there are signs indicating that the naval sailor killed the woman and committed suicide.
Prefectural police are investigating circumstances surrounding the deaths.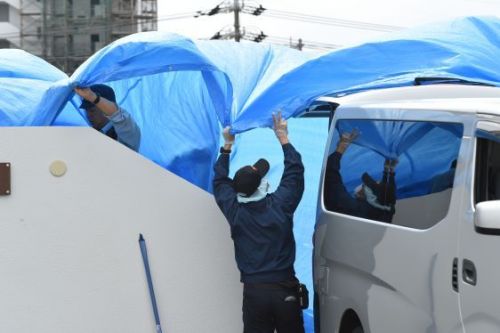 The two are believed to have had a relationship.
According to the prefectural police, at around 7:25 a.m. they received an emergency call reporting, "It seems there is some trouble."
A rescue team from the Nirai Fire Department rushed to the scene, and confirmed the death of two persons.
The two were bloodied and collapsed on the bed, and their bodies appeared to have stab wounds. A knife with bloodstains was also found in the room.
There is no evidence that anyone invaded the room from the outside, and it appears that the naval sailor was with the woman at her home from at least the night of April 12.
The woman's small daughter was home with them, and found the two dead. She contacted a relative, who then made the emergency call to the police.
The U.S. Marine Corps in Okinawa explained to a Ryukyu Shimpo reporter that it was a very sad case where a navy sailor assigned to the 3rd Marine Division and an Okinawan woman died, and that it would cooperate fully with the investigation.
It added that the Naval Criminal Investigation Service (NCIS) is investigating with the prefectural police.
Takeo Akiba, the Japanese vice minister of foreign affairs, protested to the United States ambassador to Japan William F. Hagerty on a phone call.
He sought U.S. cooperation in the investigation, the enforcement of official discipline, and recurrence prevention.
The Ministry of Defense also protested to the commander of the U.S. Forces, Japan, and the Okinawa Area Coordinator (Commanding General of III Marine Expeditionary Force).
The crime scene is located in a residential area near Route 58. It is close to the U.S. military bases, and many foreigners live in nearby housing complexes.
(English translation by T&CT)