(In Front of the Gate)
Because of an Intensive Action going on in Awa, the number of sit-in protestors was small, only 21 people. But they strongly sat, held their fists tightly, and called out protest slogans aloud. They were removed in 10minutes, but they repeatedly rallied as soon as they were released from the detention.
Many first-time visitors to the Gate were staring at the scene across the road in surprise. Anyone can tell that it is a fake to label the protest in front of the Gate as "heavily participated by Chinese radicals" as some internet right wings have done. "Seeing is believing". Come to see the actual site to confirm how ordinary people participate in the protest rally and speak up. I sincerely hope so.
Three times a day, 266 truckloads in total were delivered today.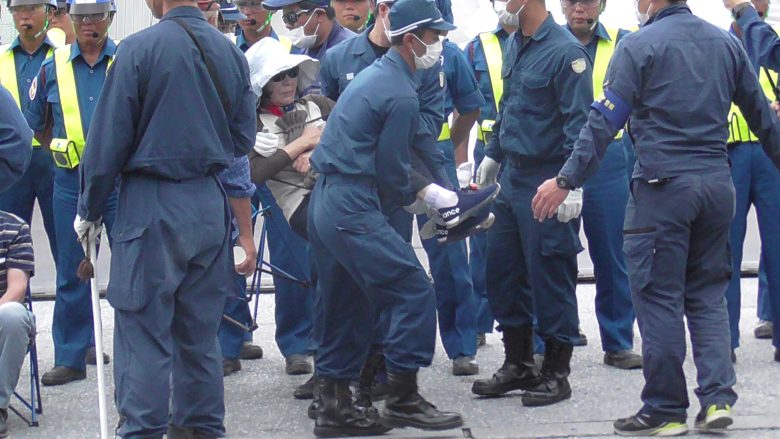 (In Front of Ryukyu Cement Pier in Awa)
It is the day of Wednesday Intensive Action. Approximately 80 people from various parts of the Prefecture participated in the protest rally in front of the Pier gate. Dump trucks came continuously to the Pier to deliver earth and sand from 7:30 a.m. to past 5:00 p.m. excepting the lunch time.
Making sure to drink enough water and eating bananas, we took turns to rally. Mr. Migita Takashi joined us in the rally. He has been protesting in front of the official residence of the prime minister calling aloud, "Abe, quit!" Today, he sung a parody on the Prime Minister Abe's way of forcing construction of the new base and received a big applause. The members of 13 canoes also joined us here. They went out on the sea after confirming that the cargo ships are loaded and ready to leave the pier. Not like in Oura Bay, here the protest group on land can see the other on the sea, and vice versa, which gives feeling of unification and the power to continue the protest.
Truckloads of 406 were delivered, and 2 cargo ships left the Pier.