(In Front of the Gate)
The daily rally was lively with participation of 10 Korean middle school students and some Australians. One student mentioned that he had seen participants from Okinawa at the "human chain" action along the latitude 38 in last April and spoke.
"We send supporting yells from Korea to you all who fight for peace. Together, let us continue our fights!"
Trying to reduce the number of deliveries, "GoGo Drive" members drove cars and rode bicycles slowly to block the truck traffic coming out of the base for a while. Three times a day, the deliveries of 176 truckloads were made today.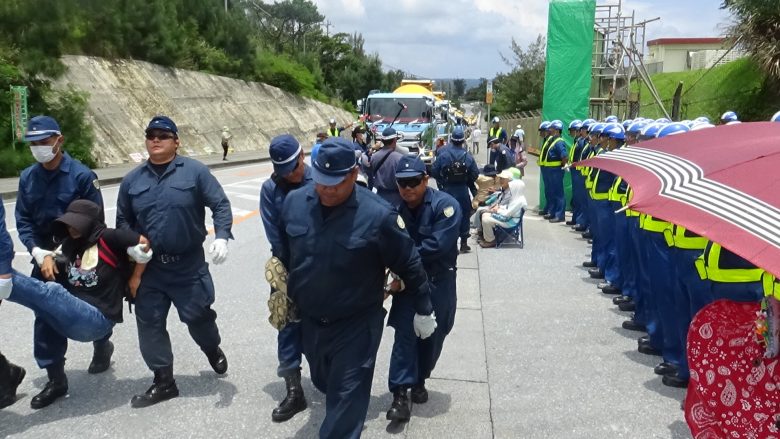 (In Front of Ryukyu Cement Pier in Awa)
A temporary holding area that Okinawa Prefectural Government permitted to use in the ground of Ryukyu Cement Co. is now in use. Within the ground of the cement company, the trucks coming from a quarry and the trucks transporting earth and sand from the temporary holding area are moving busily.
We had planned that the constituent groups of "Shima-Gurumi Conference" would send their members every day to reduce the number of deliveries from this week; however, our plan seems powerless in the current situation. We cannot stop the transportation of earth and sand within the ground of the cement company, and the volume of loads to cargo ships has not been reduced at all. Mr. Takagaki who has been monitoring the cargo ships every day is concerned.
"The pace of shipping out is accelerated. It took about 2 hours to load a ship, but now it takes only 1.5 hours per ship."
We need to come up with a new measures immediately.
The canoe members of 12 surrounded the ships to delay their departure. The 2nd and the 3rd departures were delayed by 1 hour each. Truckloads of 622 were delivered, and 3 cargo ships left for Oura Bay.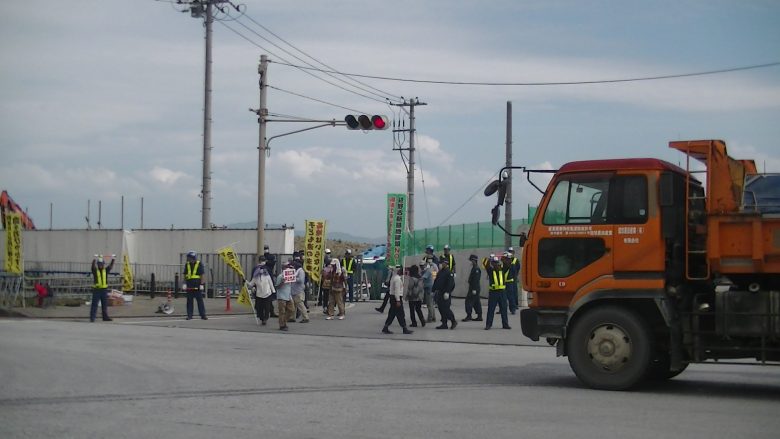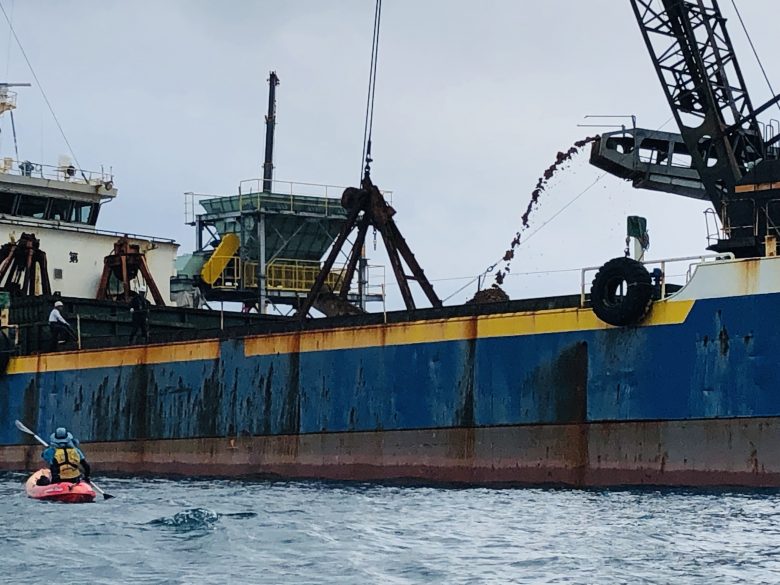 (Other)
On 5th, the US Marines admitted that a rubber parts dropped from the sky onto Uranishi junior high School ground situated near Futenma Air Base was indeed from a US military aircraft. The rubber parts was attached to a propeller of CH53E helicopter that belongs to Futenma Air Base and weighs about 20g.
There were incidences of parts dropping from military aircrafts onto the kinder gardens and the elementary schools situated near Futenma Air Base at the end of 2017. This time, it is again onto the ground of an elementary school, which has stirred big anxiety and anger among citizens. The government of Japan, Okinawa Prefectural government, and Urasoe City Government demanded the US forces to refrain from flying the said helicopter that dropped a parts.