(In front of the gate) In a drizzling rain, dozens of people continued a protest march. Protesters staged sit-down three times in front of the gate and were removed by riot police officers three times. They never gave up and continued a protest march again and again. 244 trucks for the construction entered the base.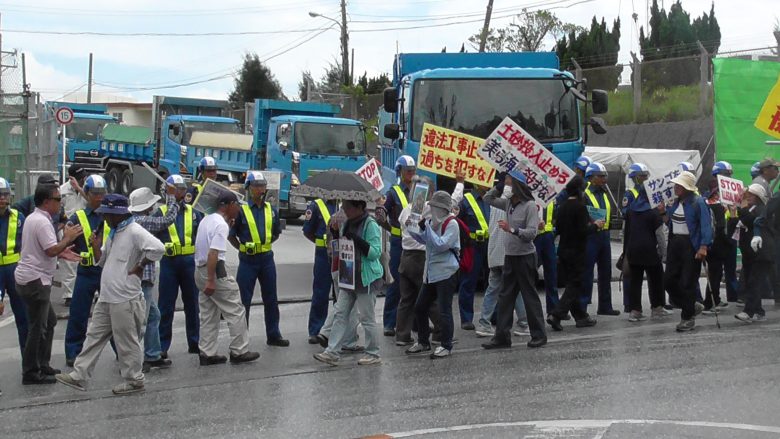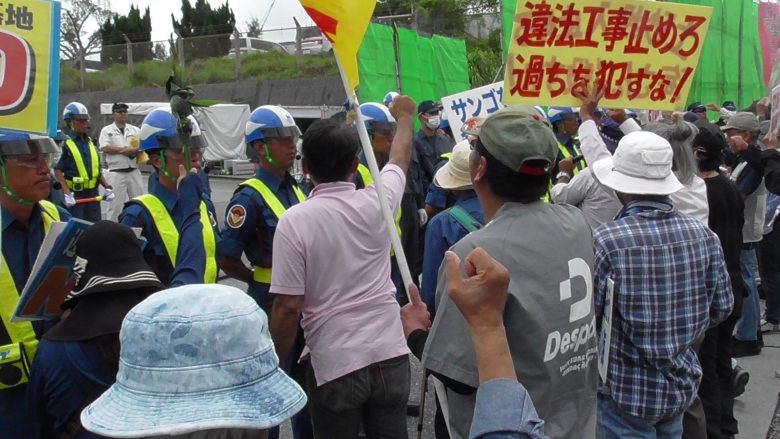 (At sea of Oourawan) Protesters left the shore with 2 small ships and 6 canoes to protest and recognized about 50 iron plates were laid down on the K8 shore. It seems that iron plates were laid to strengten the shore for an unloading operation of the earth and sand. Protesters continued to protest shouting to the workers "Don't destroy the sea." "Don't help illegal construction." from the ships and canoes. Due to the bad weather, protest was finishied within the morning.
(At Awa pier) The earth and sand which was storaged in a temporary storage site started to be carried out to the transportation ship. Six Dump trucks run back and forth to carry them to the belt conveyor. Protesters cannot do anything. Earth and sand are carried both from the diggins and from the storage now.
Since the temporary storage site was approved, earth and sand can be kept in a site all the time regardless of the load of trucks. Nakasone Sumako, a member of Motobu town assembly, criticized the prefectural government saying "Why did the prefectural government approved setting a temporary storage site ? With a start of carrying out from Shiokawa, reclamation will be accelerated." On this day, earth and sand in seven hundred dump trucks were carried out and the forth transportation ship left the shore in the evening.