(In front of the gate)
It has been raining for more than a week. It was also heavily raining this day from morning, but in front of the gate, thirty or more citizens went on a sit-in for protest. Not so many vehicles came for delivery probably because no work was done on the sea, totaling 54 vehicles delivering the material from the morning to afternoon.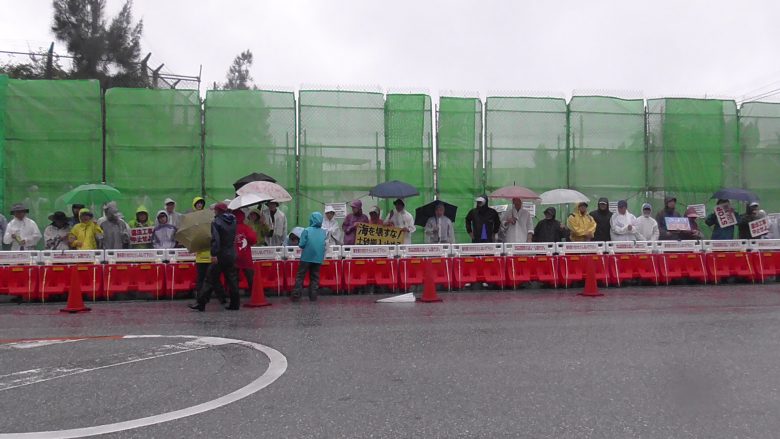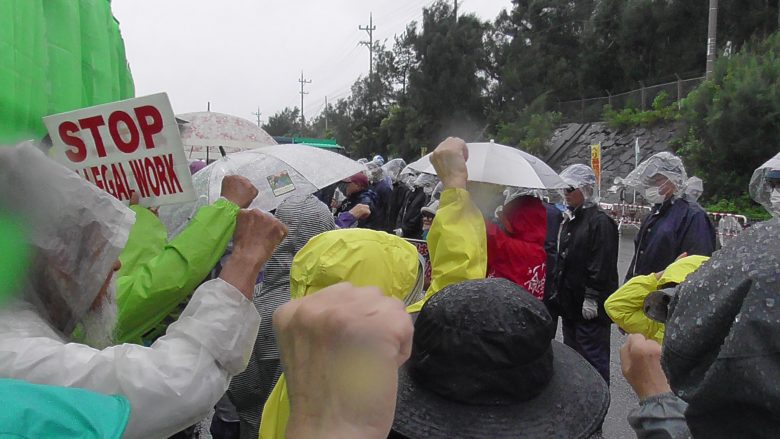 (On the sea in Oura Bay)
No protest movement was performed due to bad weather. Landfill work was not done, either.
(In front of Ryukyu Cement Awa Pier)
Neither soil/sand deliveries nor yard operation was performed.
(Others)
A new suspicion related to the construction of a new military base appeared. It was clarified that the Okinawa Defense Bureau (ODB) was suspected to have set the price of soil/sand used for landfill now, before requesting the contractors of estimation. The ODB set the soil/sand price to be 5,370 yen in November 2017. However, bids were invited to the contractors a week after that, and the final contract price was also 5,370 yen, as same as the set price. Besides, among 13 companies that the ODB requested for proposal, 12 turned down, and the order was determined with only one company that presented this price. Additionally, it was shown that the price of soil/sand used for landfill in Henoko is almost 1.5 times higher than general market prices (2,900 to 3,550 yen). Suspicion of bid rigging using the tax is very high, which seems to become a big problem in the future.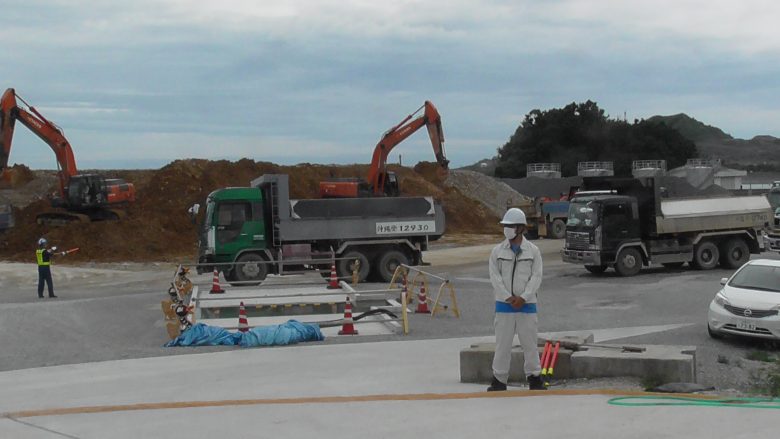 It was clarified that three LDP legislators elected from Okinawa had received donations from the construction contractors of a new military base in Henoko. Article 199 of the Public Offices Election Act inhibits donation from contractors with the state for national election, and it is highly possible that three legislators violate this law. The legislators taking donation from the contractors are Kozaburo Nishime, Konosuke Kokuba and Masahisa Miyazaki. In an interview with the newspaper, they said that they had repaid the money so that they would not be mistaken about it. "They say that they repaid the money, which means they confessed their fault. Their act is surely illegal whether they repay the money or not," an expert who investigates and pursues political funding says.
The Persons in the following pictures are, starting from the left, Kozaburo Nishime, Konosuke Kokuba and Masahisa Miyazaki.