(In front of the gate)
Participation of young people makes the atmosphere alive in front of the gate. 25 construction worker's union members came from Tokyo and started sit-in at 9:00 a.m. Tokyo Peace Committee members also came. Total of 40 or more citizens shouted, "Stop violent removal!" "Don't become a pawn of the Abe Regime!" etc. These days, the riot police remove the protestors in a polite way. They seem to learn to be careful because the protestors have been persistently and strictly condemning their action and taking legal steps. The leader of the riot police is telling on his own initiative telling the members, on the microphone, not to remove citizens violently. It's a step forward.
The protestors repeatedly marched in front of the gate even after having been removed, followed by entry of the vehicles to the base. The material was delivered three times in the morning and afternoon, by total of 144 vehicles.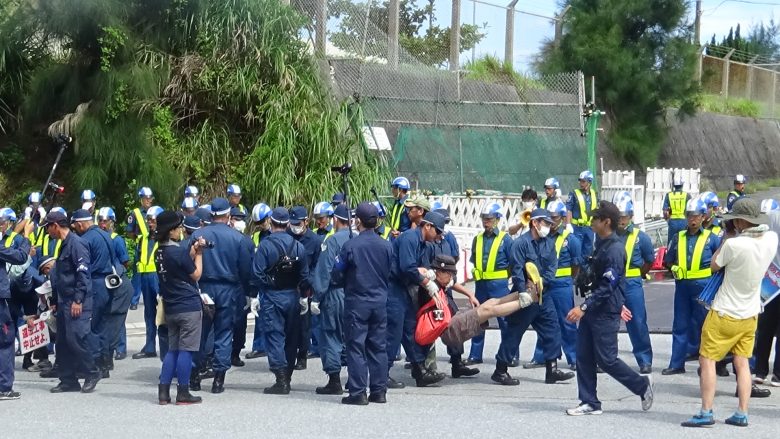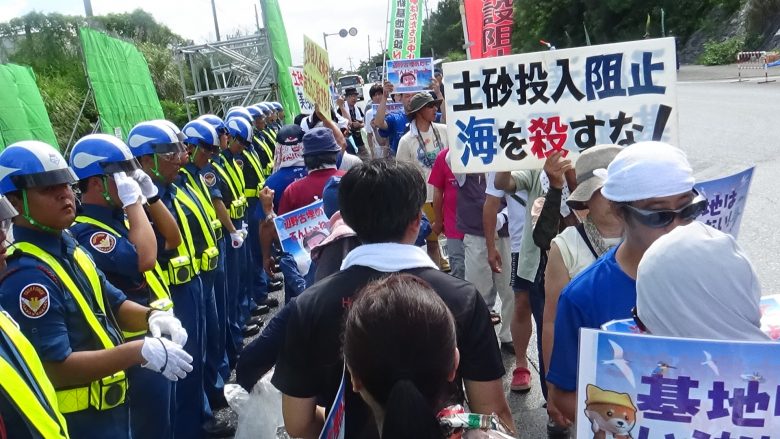 (On the sea in Oura Bay)
Patches of the blue sky were finally seen so two boats and six canoes went for protest. Restarting of the landfill work which had been delayed for almost a week due to bad weather was affirmed. The citizens tried to get close for protest to the K8 Seawall where soil/sand were unloaded, but couldn't do anything, blocked by the raft of the Japan Cost Guard. The citizens continued to protest over a loudspeaker outside the floats.
(In front of Ryukyu Cement Awa Pier)
Each protest group is assigned to the pier by day of week and therefore many protestors gathered there. Total of 45 citizens continued the protest in front of the gate or protested with vehicles this day, too. Soil/sand which must be obviously red soil were delivered by the dump trucks one after another to the belt conveyor in the site. Further soil/sand were delivered from the quarry. Loading into the carriers seems to be accelerated at once. Soil/sand, delivered by total of 579 dump trucks, were loaded into the carriers ,and three carriers set off to the Oura Bay.
Okinawa prefecture government is demanding entry to the site for qualification test of soil/sand from the Okinawa Defense Bureau, but the Japanese government has not approved the entry, making various excuses. They are afraid that their violation against the Red Soil Erosion Prevention Ordinance issued by Okinawa Prefecture will be revealed. The protestors are very angry about concealment of the suspected violation by the central government itself.