The first oral pleadings was held at Naha Local Court on 26th in an appeal to a government office demanding that cancellation of the retraction that Okinawa Prefectural Government made over the landfill permit is illegal and be retracted. Governor Tamaki Denny claimed that "it is appropriate and legal for the Okinawa Prefectural Government to cancell the permit, because construction of the new base in Henoko has a big problem such as soft seabed". Also insisted that the Okinawa Defense Bureau has not respected the relevant laws and that steamrolling the construction works is against the will of Okinawan attested by the referendum held in February and is destruction of democracy.
Before the start of the trial, several hundreds of citizens cheered Governor Tamaki Denny with encouraging calls.
"More power to you!"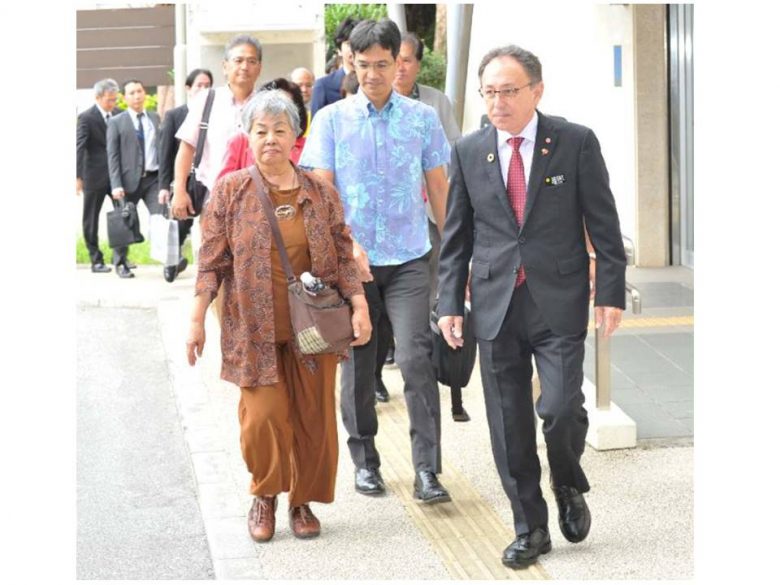 (In front of the Camp Schwab Gate)
Eighteen members of the the Nagoya City civil servants' association and 15 editors of the local news papers came to visit the Gate. Many of them were in their 30s-50s and watched closely across the road, "what's going to happen?"
Most of the sit-in protestors are around 70 years of age. Young people watching and elderly in action, which represents the current political environment in Japan. Although discontented, young people in Japan do not vote believing that "nothing will change"; thereby, end up in supporting the status quo.
What does make difference between Japan and other Asian countries such as Hongkong, Korea, and Taiwan where young people in their 20s take innitiative for change? The reason maybe Japanese have not experienced overthrowing the government? If so, let us gain an experience in Okinawa!
Watching the elderly being removed from the sit-in protest, the young members of the association started calling out aloud and raising their fist.
A total of 164 deliveries were made.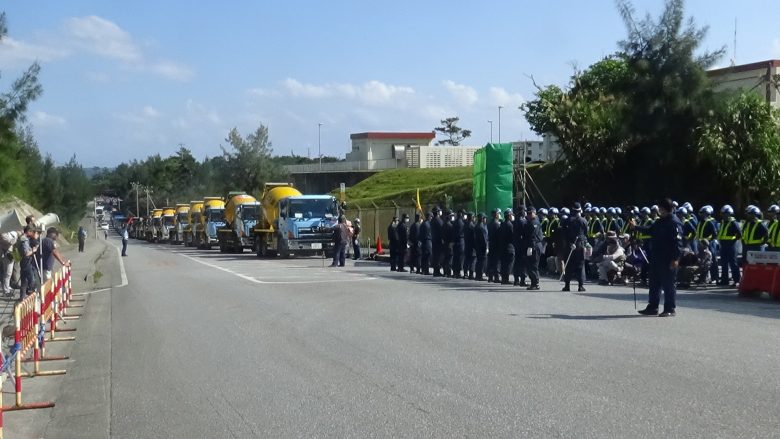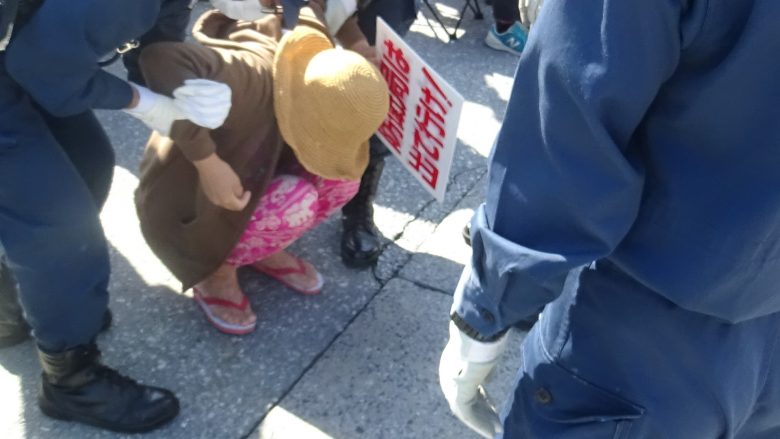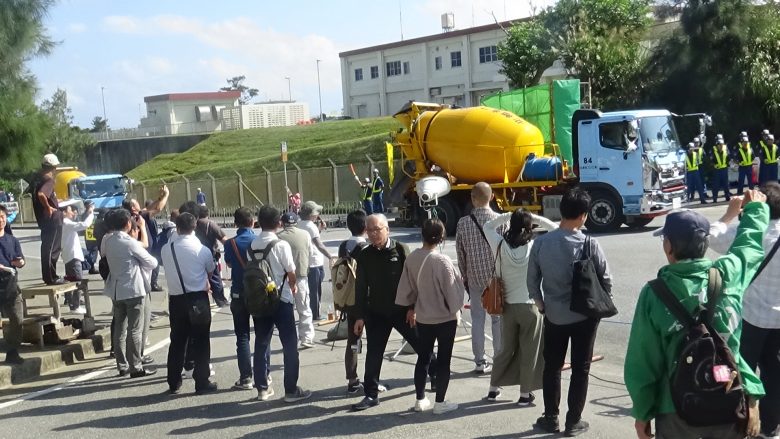 (On the sea in the Oura Bay)
Due to high waves, no protest rally was conducted.
(In front of Ryukyu Cement Pier in Awa)
Approximately 20 people kept on protesting. The leader of the day, Yamanaka-san kept on talking to the dump truck drivers.
"There are many other construction works in Okinawa. Please get the job that you are proud of."
"Is it alright to destroy the precious sea? Is it OK to destroy the future of our children?"
I wonder if the drivers feel something when they hear the protestors' call. They kept wearing a mask of no-expression.
It has been almost 1 year since the start of loading earth and sand from the Pier in Awa. The total of 487 truckloads were delivered for the day, but no delivery was made at the pier in Shiokawa.