(In front of the gate)
At 9:00am, 20 people resumed the sit-in in front of the Gate. The riot police pulled out the protesters one by one from the sit-in. They were cautious in doing so when Mr. Semba Toshiro, a former policeman, was here with us. The commander of the riot police could not answer the questions asked by Mr. Semba.
"It is illegal, isn't it?"
"What law does permit you to remove us?"
And the riot police could not perform "their duty to remove us" for a while.
However, three times a day, the total of 319 truckloads of landfill material were went through the Gate.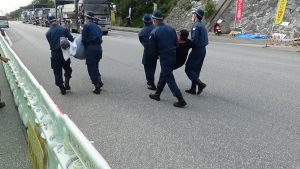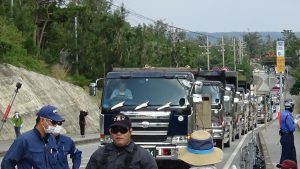 (In front of Ryukyu Cement Pier)
The number of protesters was less than 10, but every day for all day long, they call out aloud at the entrance to the Pier.
"Trucks, do not bring the landfill soil and sand!"
"The sea is crying!"
Another boat loaded with the landfill soil and sand left the Pier to Henoko early in the evening.
Many passengers of sightseeing buses and drivers of the passing cars waved at us for encouragement. Approximately 80% of Okinawan is against the construction of the new military base. We cannot give in.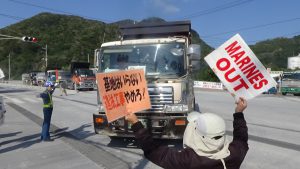 (On the sea)
Only 1 boat and 6 canoes were out on the sea for protest demonstration because many went to reinforce the demonstration at Takae and Awa Pier. We confirmed that red clay was loaded to the trucks from the barges.