(In front of the gate)
Only 10 protestors staged a sit-in in the morning because they concentrated on Wednesday Action at Awa. Protestors appealed to the dump trucks entering the gate, saying that the will of the prefectural residents had clearly been expressed and asking them not to be a party to construction. In the afternoon, 13 women, participants in a "sit-in tour" from Ehime Prefecture, joined the protest, which was enlivened. 323 vehicles delivered the material in the morning and afternoon, dividing into three times.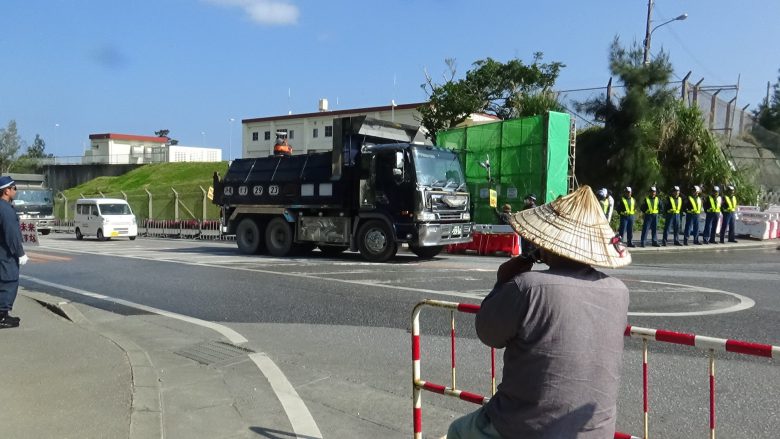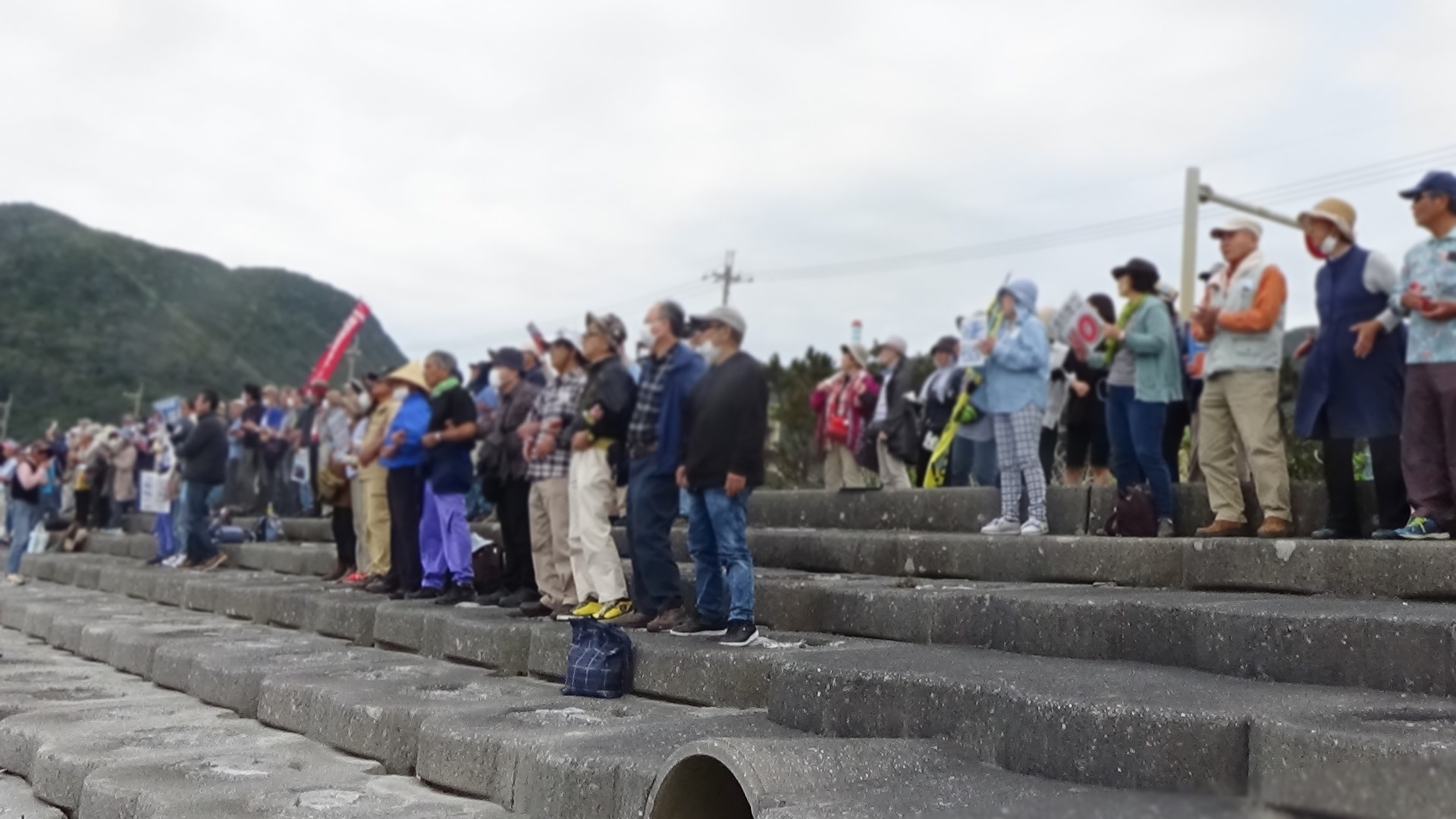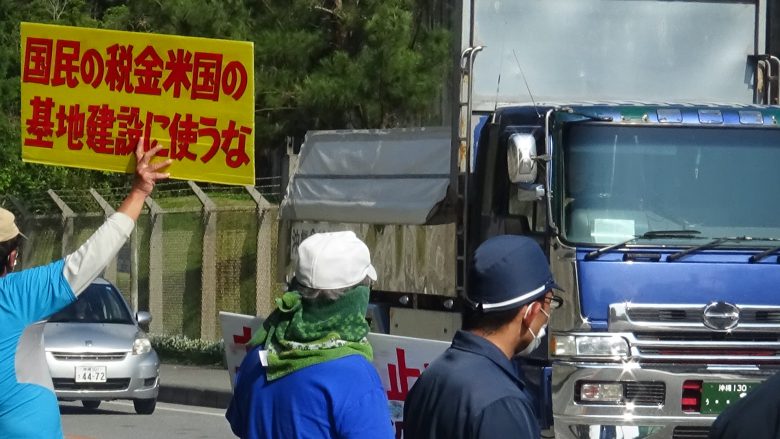 (At Ryukyu Cement Awa Pier)
Wednesday Action: 150 or more protestors gathered in front of the entrance of the pier and marched in protest. The dump tracks could not enter the gate easily, bothered by a traffic light and demonstration march. Only 291 tracks, less than a half of those yesterday, could deliver the soil/sand. In the afternoon, Mr. Koike, Communist Party Leader, visited the site and said that he would certainly pick up at the Diet how the protestors were fighting.
On the sea, one rubber raft and 13canoues took an action for delaying the departure of the carriers. Only one of three carriers that had completed loading of the soil/sand could leave the pier. Delivery of soil/sand by dump tracks completed about at 15:00, probably because they were concerned about typhoon NO.2.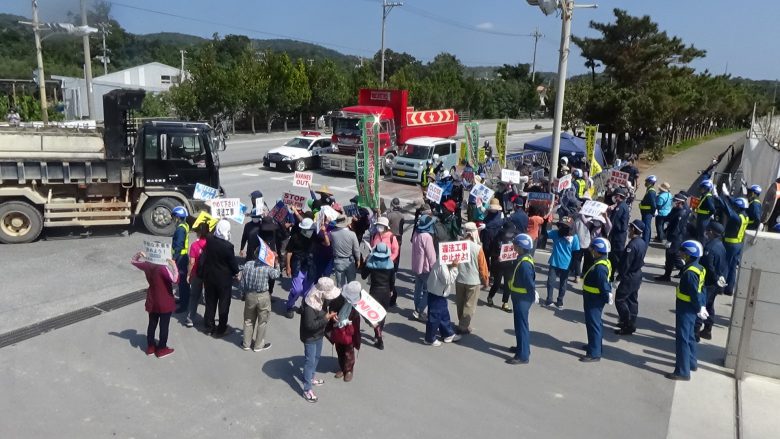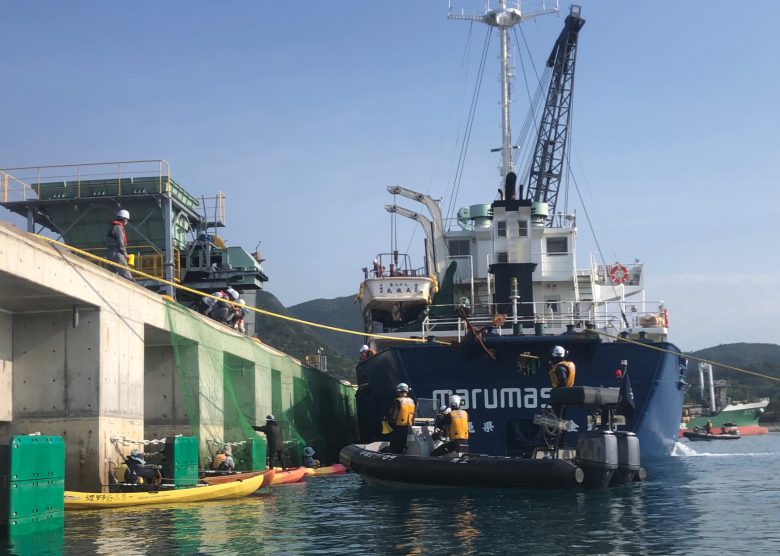 (Others)
A biggest noise level was recorded by a live-fire training at the Camp Schwab from the noon to night on Feb 26. The level was 98.7 dB and 93.9 dB at the highest in Henoko district and Kushi district, respectively. The traininge was intermittently performed for about 7 hours, also with the training using flare confirmed for some dozen times. 100 dB corresponds to the noise of a passing train heard at an underpass, and 90 dB corresponds to the noise heard within a Karaoke shop.
Kenichi Moriyama, a resident in Kushi-ku, said that he heard far bigger noises than usual trainings, feeling like being in a battle field, annoyed too much.