(In front of the Gate)
From 8:30am, over 60 people resumed the sit-in. The master of ceremonies for the day, Mr. Nakamoto Koshin, started calling to the riot police members.
"I do not believe that you want to remove the citizens from the protest rally because your duty is to protect the law as a civil servant. However, construction of the new base violates the laws. Please pay great attention to this fact when you do your job."
Ten minutes later; however, the riot police members came out of the Gate and started pulling out the protestors from the rally. Ten staff members of Okinawa Kyodo Hospital who joined the protest saw it, and one member said.
"This is my first time to be here. Very different from what I had expected to see. I am glad that I have come."
Three times from the morning through the afternoon, 345 truckloads in total were delivered.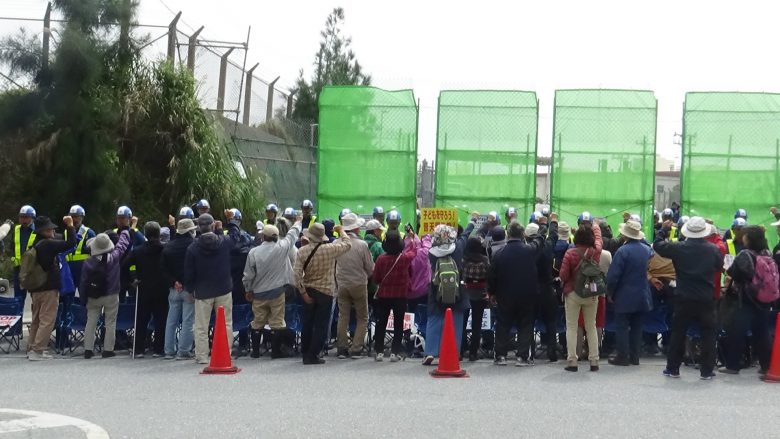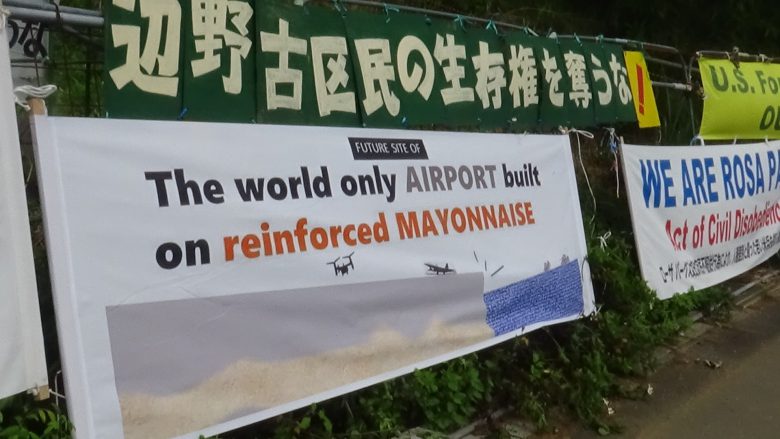 (In front of Ryukyu Cement Pier)
Although small in the number of protestors, we rallied all day long. In the morning, 352 truckloads of dirt and sand were delivered, and no delivery in the afternoon. It may be because unloading from the carrier boats was taking time, and no empty carrier boat was ready to take the load. Construction of K8 seawall is aimed to resolve that problem.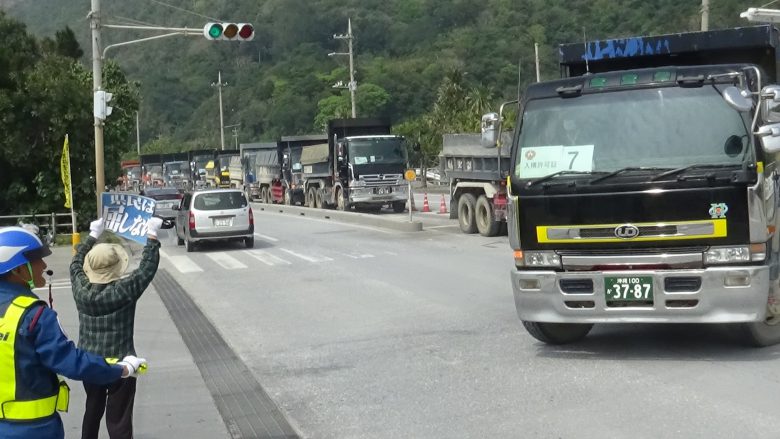 (On the sea in Oura Bay)
Two boats and 5 canoes went out on the sea for the protest rally. Construction of K8 seawall started by depositing crashed stones. Trucks went through the Gate and deposited crashed stones into the sea, and the shovel cars press down the crashed stones. The sound of shovel pressing down, "Gung, gung, gung!" vibrates over the sea. Beyond the end of K8 seawall, the growth of colonies of small coral has been confirmed. They are subject to transplanting. However, insisting that "the growth colonies are still too far from the work site to be affected", the Defense Bureau started the construction work. The experts has pointed out that the current in Oura Bay will be changed greatly by K8 seawall and deteriorate the sea environment.