(In front of the Gate)
Approximately 40 people resumed the sit-in form 8:30am, but were removed by the riot police force within 10 minutes and forcibly placed in a temporary detention area on sidewalk (The picture below). This is repeated 3 times a day. Mr. Kimura from Osaka said in surprise.
"I did not know that the citizens nonviolently protesting are removed in this manner. I felt in my gut how horrible the power can be. I felt so much grief and anger that tears welled up in my eyes."
The total of 219 trucks went into the base today.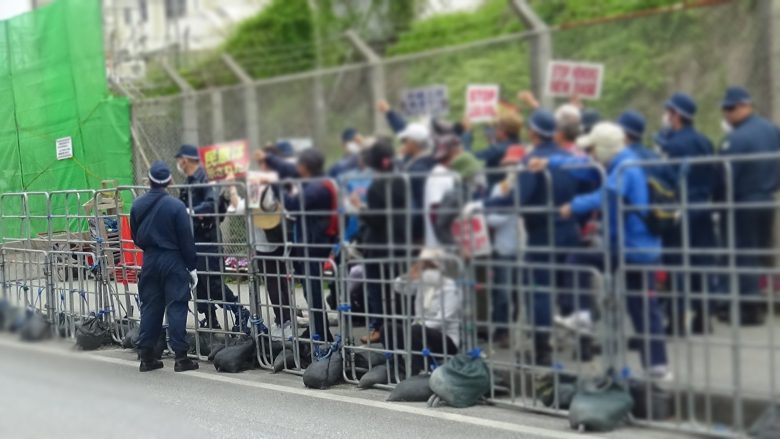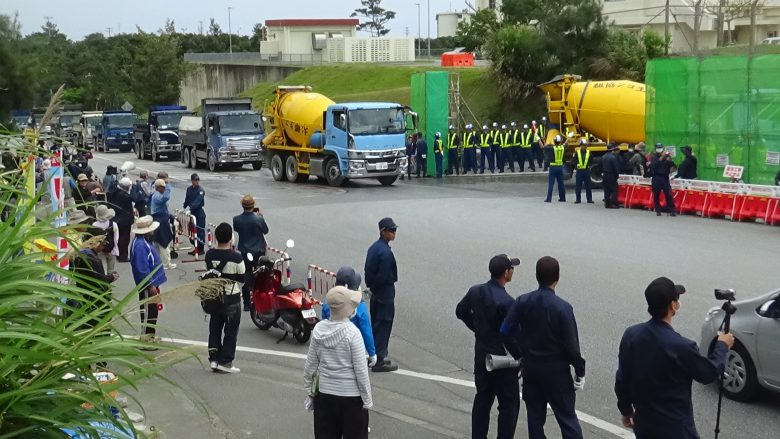 (On the sea in Oura Bay)
Works were in progress in 3 locations; depositing earth and sand to the zones 2-1 and 2, and building K8 seawall. The number of trucks used for depositing earth and sand was 15. They loaded earth and sand at every 1 minute and 40 seconds from the carrier ship berthed at K9 seawall and transported to the depositing areas. Approximately 250 truckloads of earth and sand (equivalent to one carrier ship load) per day are deposited into the sea. Since it is within a base, the rule for loading volume is ignored, and the truck are over-loaded.
The picture shows Wasp, an amphibious assault ship that appeared in Oura Bay on the day of starting depositing earth and sand into the Zone 2. Wasp is currently stationed in Sasebo City (in Nagasaki Prefecture) but came here on this particular day, which appears to be a warning to Okinawa. Upon completion of the new base in Henoko, it is said that Bonom Reashal, an amphibious assault ship of 257 meters long, will get to the Henoko shore. As it is called, the ship is for ASSAULTING.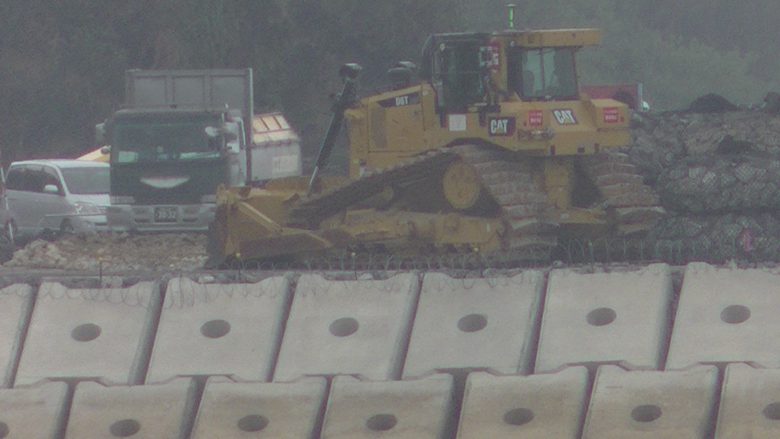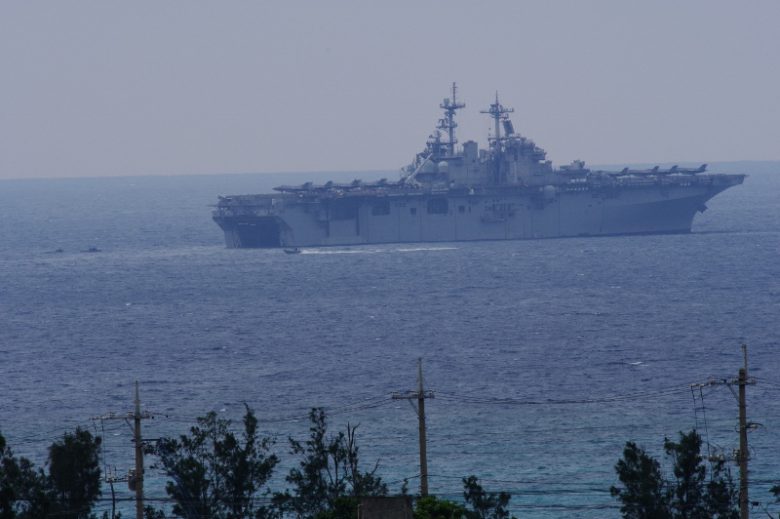 (In front of Ryukyu Cement Pier in Awa)
A small number of protestors rallied all day long. Deliveries of 596 truckloads of earth and sand were made for the day. Three carrier ships left for Henoko.