(In Front of the Gate)
In a drizzle, 13 people resumed the sit-in. To the mixer cars and dump trucks that deliver earth and sand they rallied all day long.
"Don't lend your hands to destroy the Oura Bay!"
"Stop the illegal construction!"
Truckloads of 157 were delivered.
The candidates for the House of Councilors election that was officially announced yesterday visited us one after other. Candidate Takara Tetsumi who is supported by All Okinawa is a scholar of constitutional law, made a public commitment "to oppose the new base construction". Since the candidates supported by All Okinawa won 3 consecutive elections; the gubernatorial election, Naha City mayoral election, House of Representatives election to fill a vacated seat, winning the pending election by Mr. Takara will be a big blow to Abe Administration. Another election that we must win is started again.
The picture shows a ceremony to start the election campaign on Setaka Beach in the Oura Bay in front of the construction site.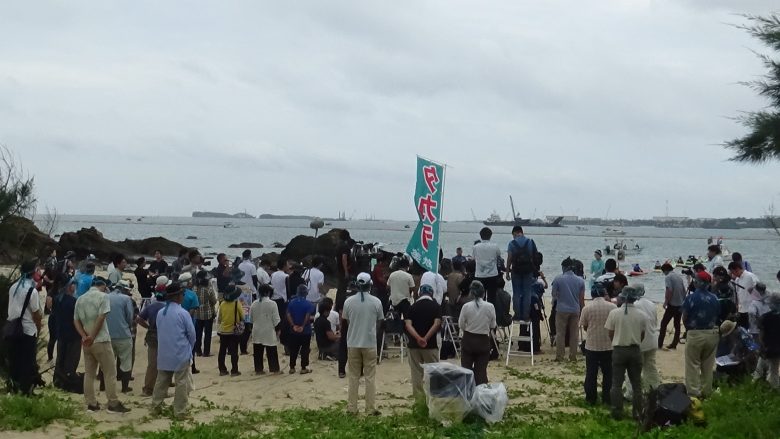 (On the Sea in Oura Bay)
Two boats went out on the sea to monitor the status of construction. Unloading was in progress at two seawalls, K8 and K9, and trucks were running back and forth to the dumping site.
At the Okinawa Prefectural assembly held on 1st of July, a person in charge replied.
"The landfill has progressed, and it is estimated that approximately 2.8% of the planned landfill area is completed."
It has become evident that the work has been delayed greatly due to the citizens' strong protest. Furthermore, typhoons and the planned legal actions will definitely slow down the construction work.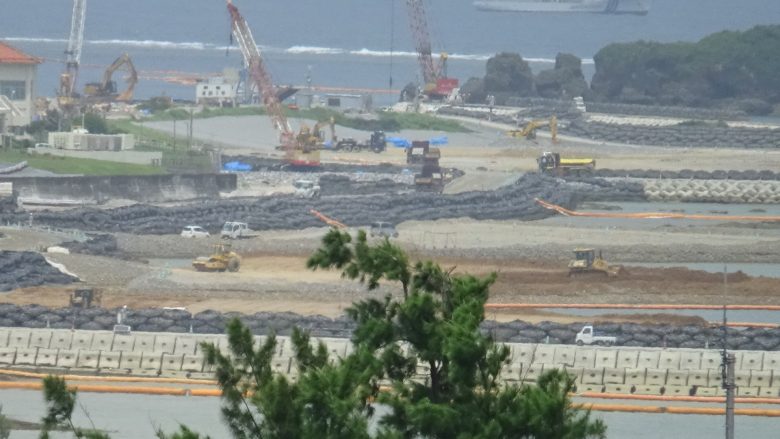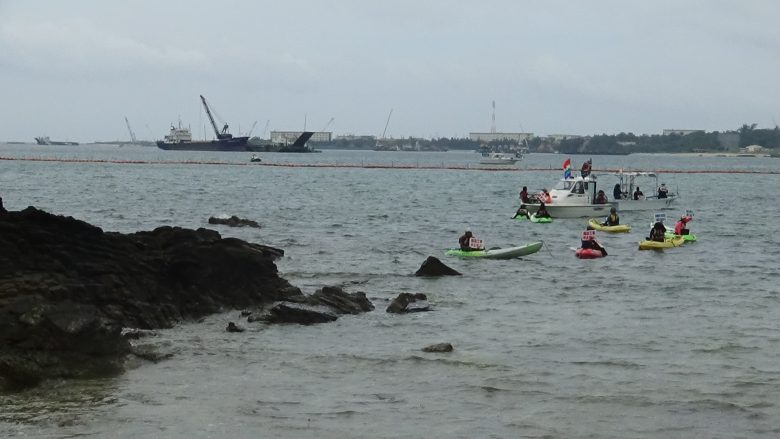 (In Front of Ryukyu Cement Pier in Awa)
Yesterday, a worker fell from 8m height in a cargo ship. Fortunately, he was not severely injured, but the same work routine is being performed today. Some citizens demanded the Labor Standard Inspection Office to order the Defense Bureau to stop the construction work, insisting that the Defense Bureau should put precedence on clarifying the cause of the accident over maintaining the work schedule. However, the deliveries of earth and sand were continued, and 592 truckloads were delivered.
No delivery at Shiokawa Pier of Motobu Port.