(In Front of the Gate)
From Tokyo, a theatrical company and concerned members of a famous orchestra visited the Tent Village to cheer up the protesting citizens in the sit-in rally. In a drizzle, they staged a play and songs which focused on Fukushima and Okinawa, and received big applauds. They walked around the gate playing the instruments and joined the sit-in. The director of the company, Mr. Sui Rausu expressed his thoughts on the construction work that "the construction of the new base is not feasible technically and legally".
Three times the day, 104 trucks in total including mixer cars made deliveries.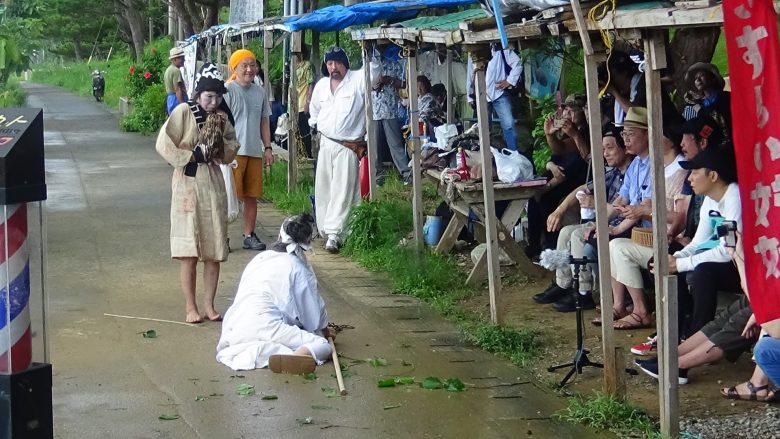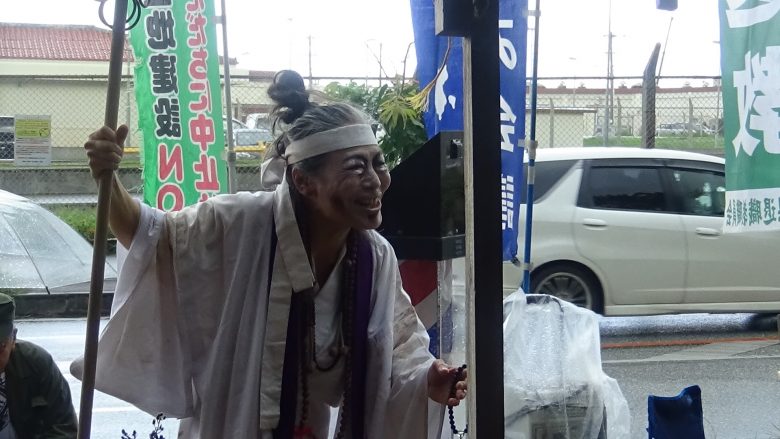 (On the Sea in Oura Bay)
One boat and 5 canoes went on the sea to protest and confirmed that the earth and sand loaded at the pier in Awa were transported to K8 and K9 and were unloaded, and that dump trucks transported them to the dumping site.
Due to a bad weather, the protest on the sea was finished by noon.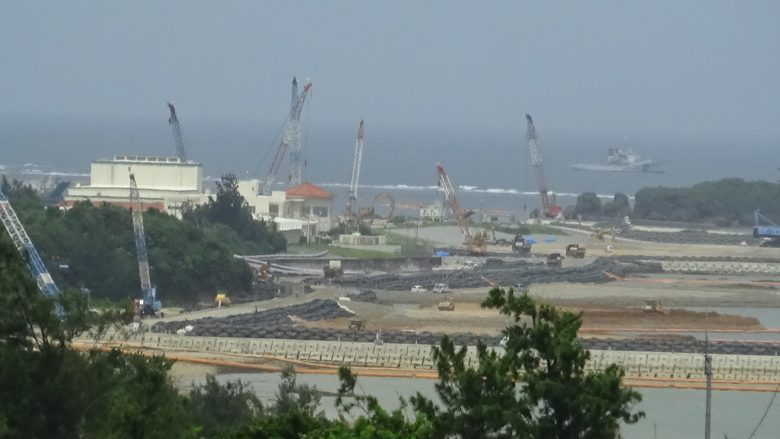 (In front of Ryukyu Cement Pier in Awa)
Approximately 30 people rallied against the dump trucks in front of the Gate leading to the Pier all day long. Since the temperature went up high from 10:00 a.m., we took turns to rally. A care package of Anmitsu was delivered to us, and the cool sweet taste of Anmitsu eased our fatigue. Learning that loading work was started at Shiokawa at about 11:00 a.m., 8 of us immediately left to give additional support.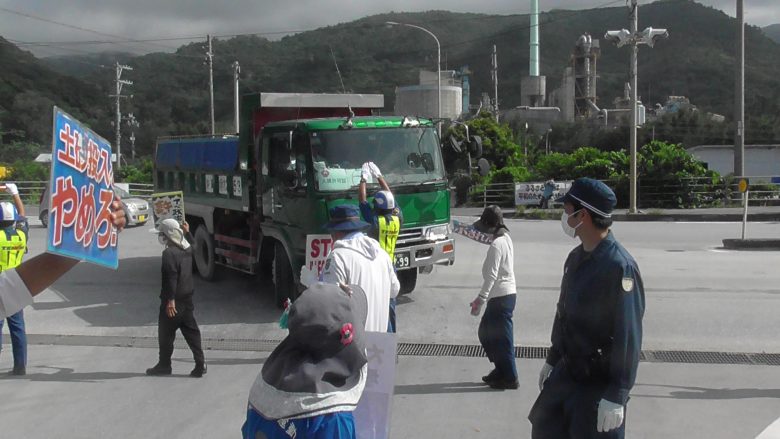 (At Shiokawa Pier of Motobu Port)
Guards of a private security service company lined up from 11:00 a.m., and delivery of earth and sand was started. Only 10 riot police men were attending and could not effectively remove the protesting citizens, which lengthened the cue line of trucks that could not move for a long time. When loading starts at 3 locations; in front of the Gate of Camp Schwab, Awa, and Shiokawa, the power of the citizens' protest will be divided, and the number of protesters at each place will be considerably decreased. The riot police of Okinawa will have the similar problem. I wonder if they are going to request to the riot police of the mainland for help.
A fight in Okinawa cannot escape from the heat; it requires patience and endurance. But we cannot loose.
Before the sunset, 174 trucks made deliveries.