Okinawa's riot police force was deployed to attend the enthronement parade in Tokyo last week, and they had to put aside attending constraction of the new base. Since Nov. 4th, landfill operation has been carried out only for 3 days. The very fact that the construction cannot be carried out unless guarded by the riot police proves how much Okinawans unwelcomed the construction. How much longer Abe administration is going to enforce construction of the new base to which over 70% of Okinawans have opposed? Landfill operation has begun again in the midst of desolation and confusion due to the loss of Shuri Castle by fire.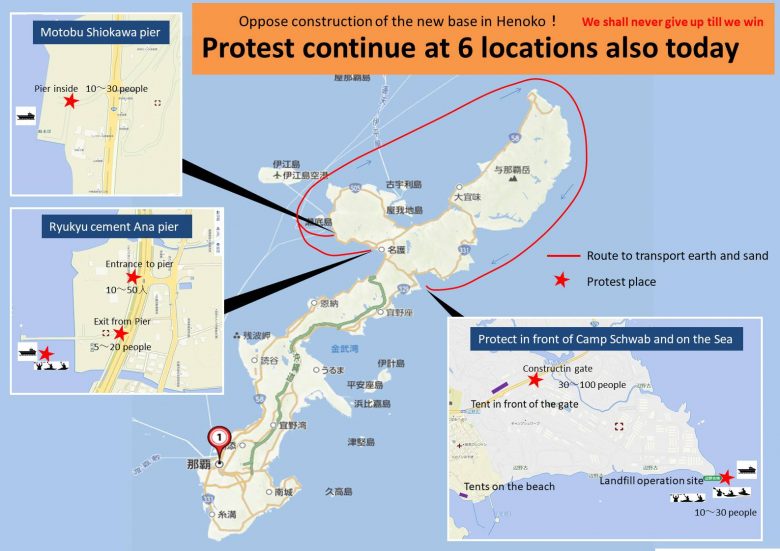 (In front of the gate)
Approximately 60 people including 25 members of "kichinonai heiwana okinawa wo mezasu kai" (Association to achieve peace in Okinawa with no military base in 3 prefectures of Kanto District) resumed the sit-in protest from 9 a.m, and raised their voice, "No new base!" We asumed that the riot police was still in the mainland and that no construction activity would take place. However, a bit before 9 a.m. when concrete mixing cars appeared on the national highway, about 30 riot police men came out of the base. It was unexpected, and within 20 minutes all protestors were removed. All concrete mixing cars went into the base one by one. In the afternoon, twice a convoy of concrete mixing cars and dump trucks made deliveries. Today's delivery total was 176 truckloads.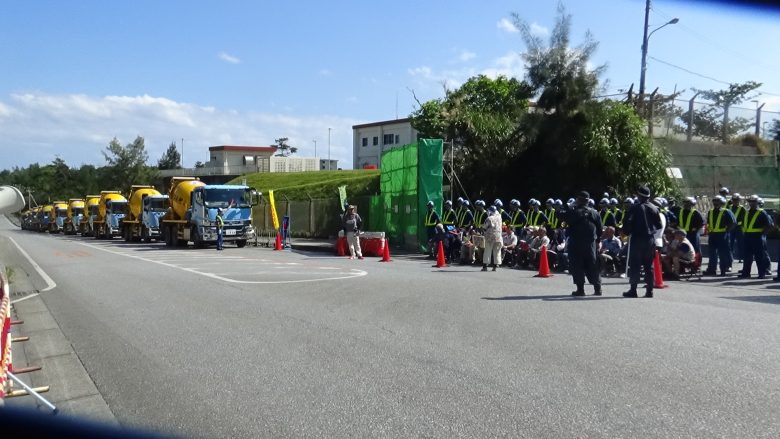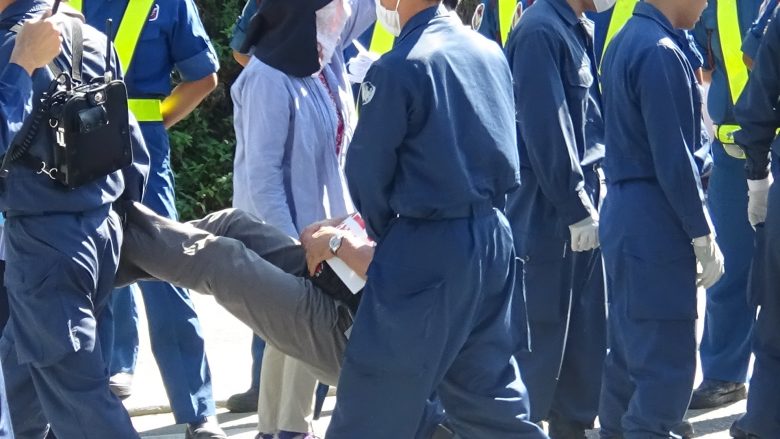 (On the Sea in Oura Bay)
Two boats and 6 canoes went out on the sea to protest and witnessed unloading earth and sand at K8 and K9 seawalls. The canoe team tried to approach the barges near K9 to stop them from berthing, but all were captured and detained for a while.
Some US soldiers were canoeing along the fence, but the Japan Coast Guard did not pay any attention to them. We protested, "why the citizens are removed while US soldiers are left free."
(At Ryukyu Cement Pier in Awa)
Approximately 60 people gathered in front of the gate at 6 a.m. in order to stop empy trucks entering the Pier ground. At about 7:30 a.m., 3 bus-ful of riot police arrived unexpectedly. At 8:00 a.m. when dump trucks appeared, the protesting citizens were removed, and 8 dump trucks went inside the Pier ground. After that, all day long, the trucks loaded with earth and sand from the quarry kept coming to the Pier. Trying to keep the trucks within the ground of the Pier, eight vehicles of GOGO Drive campaign blocked the exit.
The dump trucks from the quarry made 309 deliveries. Together with 452 truckloads stored within the Pier ground, 761 truckloads were loaded to 4 cargo ships, which left for Oura Bay.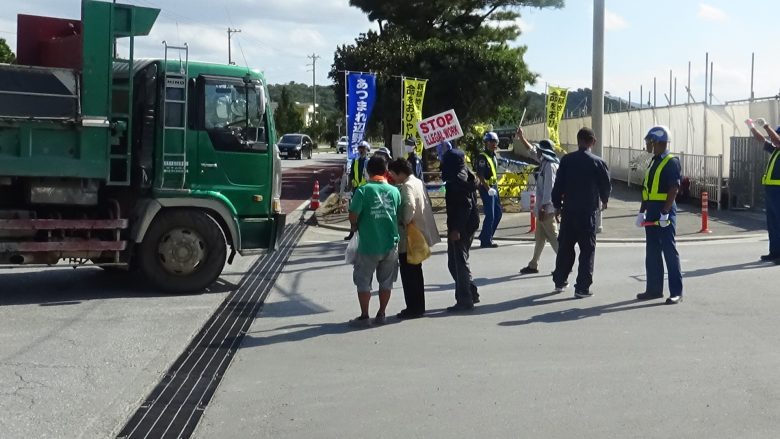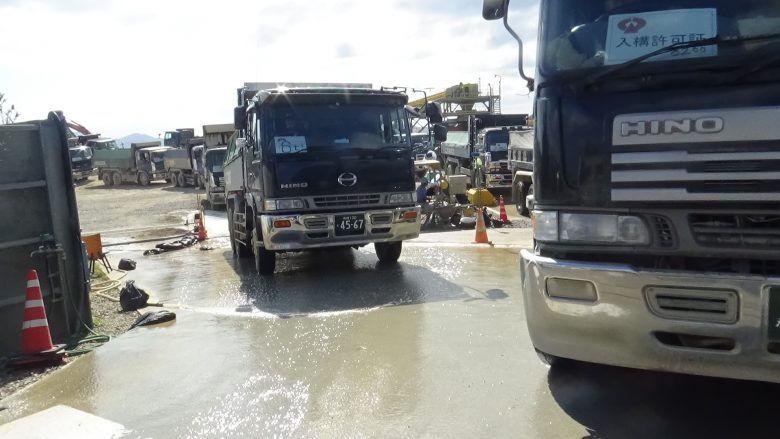 (Shiokawa Pier in Motobu)
At about 7:30 a.m., 20 members of Uruma Shimagurumi group stood in front of the dump trucks loaded with earth and sand to stop them unloading. For about one hour they stop the trucks before they were removed by 30 riot police men who came from Awa.
Approximately 40 people came to Shiokawa today and delayed deliveries of earth and sand substantially.Dump trucks made 298 deliveries, and 1 cargo ship left the pier.