At the year end, the Defense Bureau finally announced the total construction cost of the new base in Henoko would be 930 billion yen. It is 2.7 times more than 350 billion yen budgeted in 2014 when the construction work started. The Okinawa Prefectural government, on the other hand, estimates the cost will go higher due to the works needed to improve the soft seabed, up to 2.55 trillion yen at the minimum.
The innitial buget did not include the ground improvement work with over 70,000 sand pillars to be burried in the seabed of the Oura Bay, which requires drastic changes in the cost and the schedule of the construction work. Mr. Kitaueda Tsuyoshi, a civil engineer, has pointed out that "the recent cost estimate by the Defense Bureau is a wishful amount. It is impossible to review such drastic changes and come up with a proper cost estimate in a short period of time since the technical review meeting held in October." Mr. Teruya Hiroyuki, a professor at Okinawa International University, has stated that "the Bureau's 
Peace Studies Association of Japan granted the 7th Peace Award to Mr. Yamashiro Hiroji (67 yrs.) who is known as "Mr. Gate Mae (in front of the gate)" to the world. He was recognized for his anti-base movement activities such as camping out in protest to the heli-pad construction in Takae Town and organizing the protest rallies against the new base construction in Henoko. Mr. Yamashiro stated, "I am gald to know that our movement is recognized. It is an award for every and all Okinawan."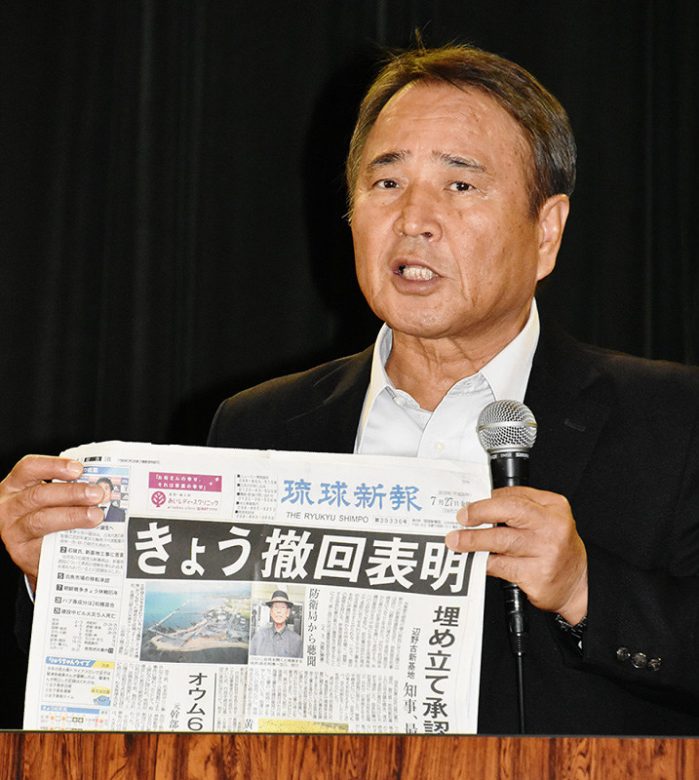 (In front of Camp Schwab Gate)
Approximately 40 people resumed the sit-in in front of Camp Schwab Gate from 9:00 a.m. The majority of their criticism is on the cost that goes over 930 billion yen.
"It is getting harder to get by due to increase in consumption tax and medical expenses. In addition, to pay for the base cost? You must be kidding!"
"I am afraid that the new base will get whatever budget needed, ignoring other needs such as the support for the typhoon victims."
Today, 156 trucks including concrete mixer trucks made deliveries.
(In front of Ryukyu Cement Pier in Awa)
The protest rally was conducted both on land and sea. In the morning, the canoe team with 7 canoes delayed the departure of cargo ships for over one hour. The protest demonstration was active at the entrance and the exit of the Pier so that the dump truck could not easily enter the gate.
550 truckloads of earth/sand were loaded to the cargo ships, and 2 cargo ships left for Oura Bay.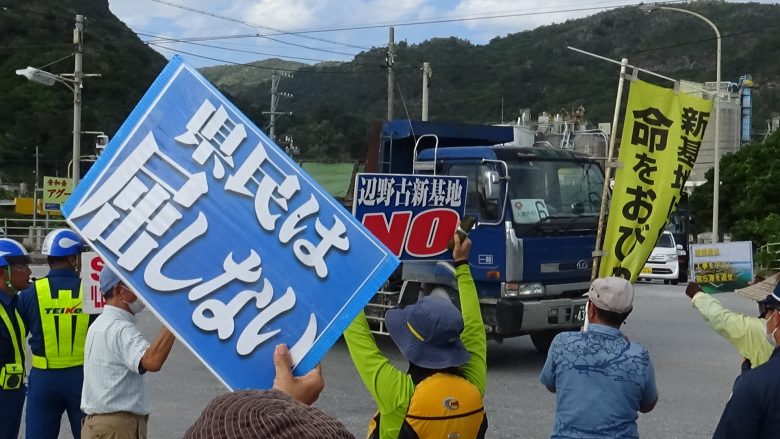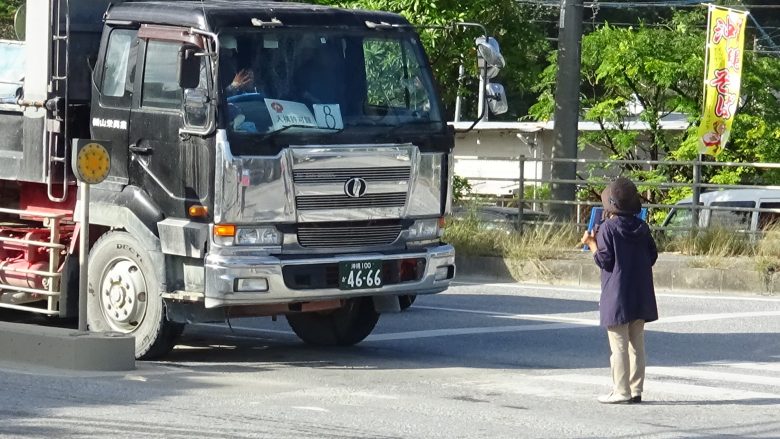 (In front of Shiokawa Pier in Motobu-Town)
In order to be ready for the operation that starts at 7:30 a.m., 10 residents of Motobu Town stood in front of the trucks and stopped loading until the riot police force arrived. After 20 riot policemen removed the protestors, the dump trucks started entering the pier ground.
It was expected that today would be the last day of work for the year, but the work seems to be continue till 27th. Deliveries by 334 dump trucks were made.