It was clarified that a draft of a ground improvement plan for the new military base, developed by the Ministry of Defense, did not meet the Unified Facilities Criteria (UFC) for runways required by the U.S. military. The fact was revealed by an inquiry made by an opposition party member during the current Diet session. The UFC defines that a runway "should have no changes in inclination" within 300m from its ends, but it is predicted that two runways of the new military base will have uneven settlement of the ground. It is estimated that two runways to be constructed will have "unequal settlement (random sinkage)" of 8cm on the north side and 12cm on the south side respectively within 20 years of use. The Ministry of Defense said that they had "adopted the criteria established by the International Civil Aviation Organization (ICAO) in consultation with the U.S.", but adoption the criteria that are less strict than those for the military use has raised doubts and criticism.
Yoichi Iha, a diet member who belongs to All Okinawa, pointed out, "Sinking will start within a few years of runway use. The government expects that the maintenance and repair works of 2-4 times in 20 years will be sufficient, but it may be moe than that. There is a high risk of greater degree of uneven settlement." The opposition members intend to be more aggressive in their pursuit of the government.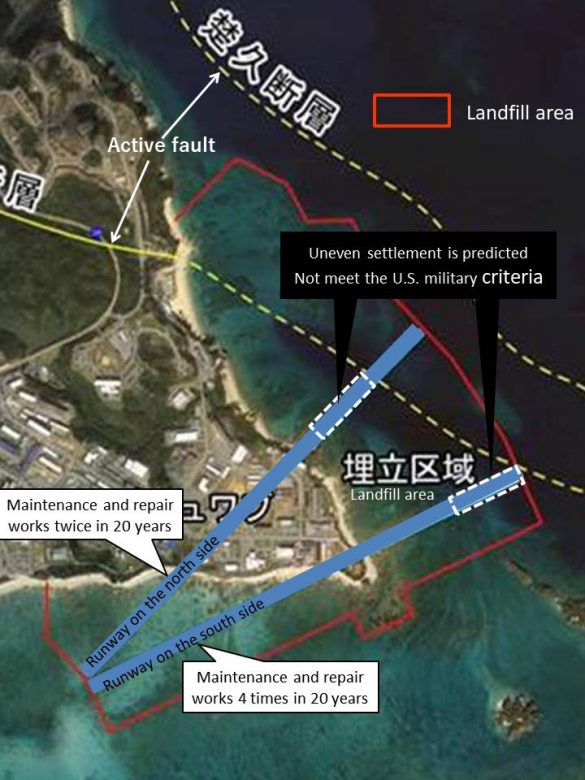 (In front of the Camp Schwab Gate)
In occasional flurries, about 30 citizens staged a sit-in for protest in front of the gate. Even after having been removed by the riot police, each person carried a placard and made a protest against the delivering vehicles, saying what he/she wanted to say, such as "Don't destroy the sea !" or "Don't help an illegal construction !"
Vehicles including concrete mixer trucks delivered 207 loads.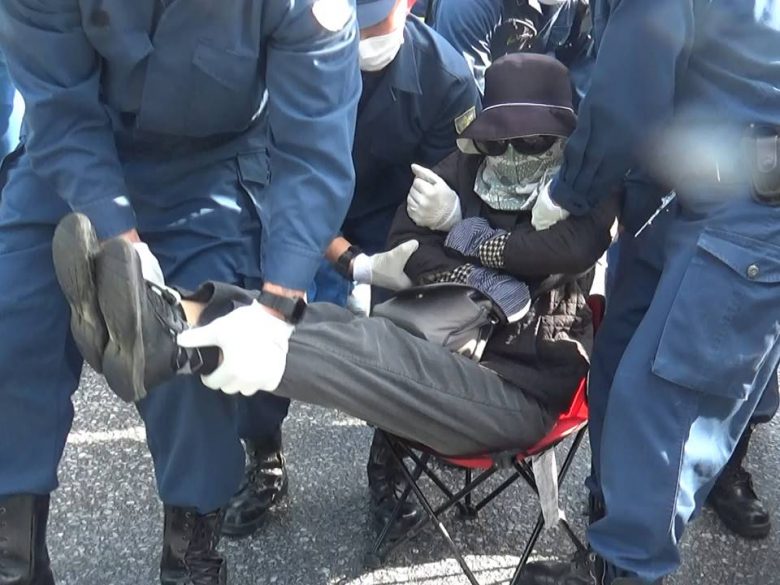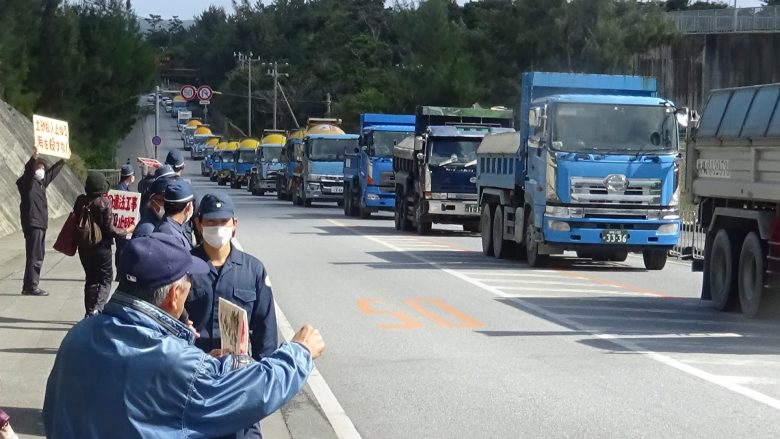 (In front of the Ryukyu Cement Awa Pier)
About 20 citizens and 8 members of GoGo Drive campaign made a protest at the entrance and the exit to delay the delivery of earth/sand by dump trucks all day. Delivery continued until after 19:00pm, and 809 truckloads of earth/sand were loaded to cargo ships.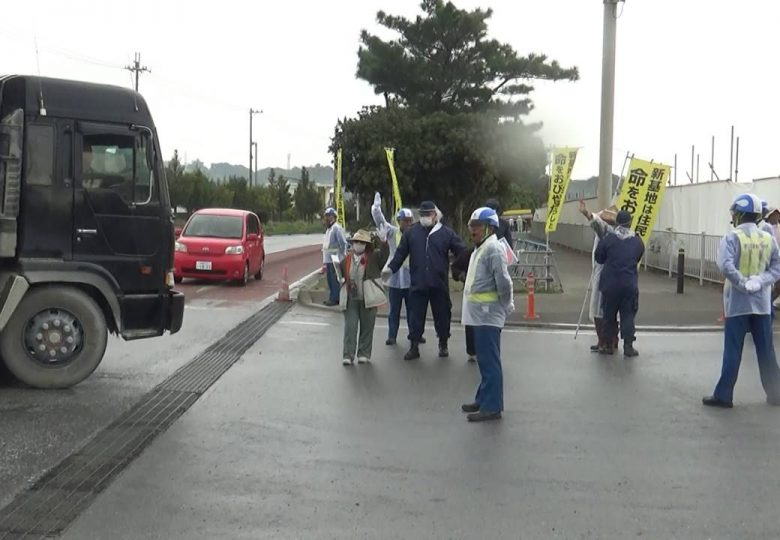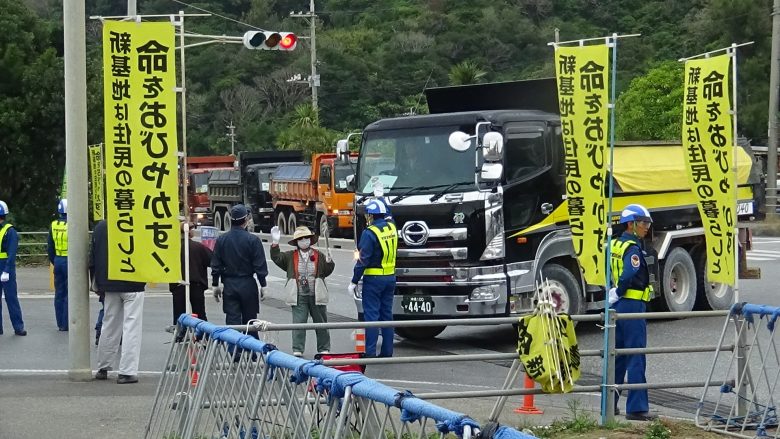 (In front of the Shiokawa Pier at Motobu Town)
Mainly Shimagurumi members in Uruma City blocked the delivery by dump trucks for more than two hours until the riot police came after 9:00am. A carrier docked at the pier for the first time in a week, and soil/sand of 244 truckloads were loaded to cargo ships.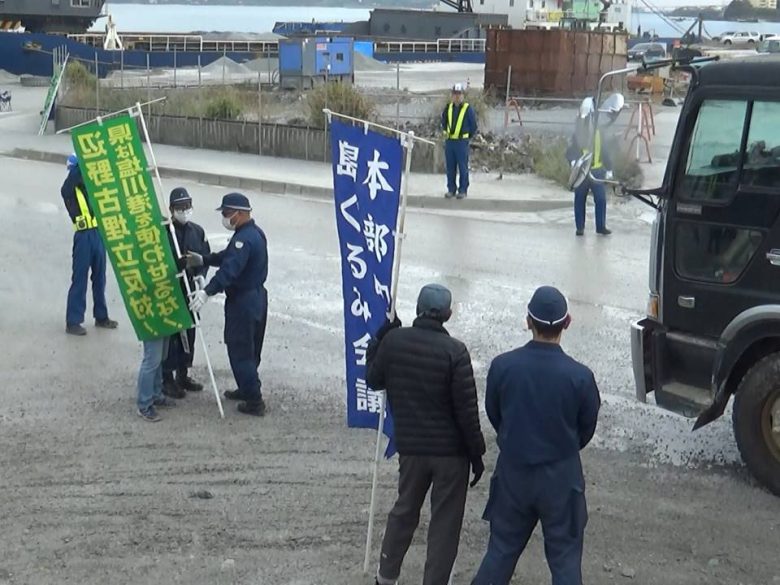 Total number of dump trucks to date and percentage against the total
The weight and the volume of earth/soil were estimated per experts' advice
Number of dump trucks which made delivery from December 2018 to the end of December 2019     114,601
| | | | | | | |
| --- | --- | --- | --- | --- | --- | --- |
| |  3(Mon) | 4(Tue) | 5(Wed) | 6(Thr) | 7(Fri) | 8(Sat) |
| Awa | 809 | | – | – | – | – |
| Shiokawa | 244 | – | – | – | – | – |
Number of dump trucks   
※
Weightt of earth/sand   

※①

Converted to volume  

※②

Volume per Total 

※③

132,438
794,628t
397,314㎥

1.927%
※ Cumulative since Dec. 1, 2019
※① Calculated by assuming that the average truckload per dump truck would be 6 tons
※② Calculated by assuming that a specific weight of soil/sand set to be 2
※③ Percentage against 20.620.000m3, the total volume of earth and sand required for the landfill.