(In Front of the Gate)
At 9 a.m. under the hot sun, approximately 50 people participated in the sit-in rally. Since yesterday, unloading at K8 started, which aggravated the citizens' anger.
To the riot police force coming out of the Gate, the protestors shouted.
"You participate in the construction that destroys Oura Bay?"
"The will of the people is clear. You deny it?"
The riot policemen seemed to be wearing a mask and not hearing a word. They kept on removing the protestors one by one. Dump trucks lined up over 1 kilometer. In about 30 minutes, all protestors were removed, and the loaded trucks went into the base.
Three times a day, 174 truckloads in total were delivered today.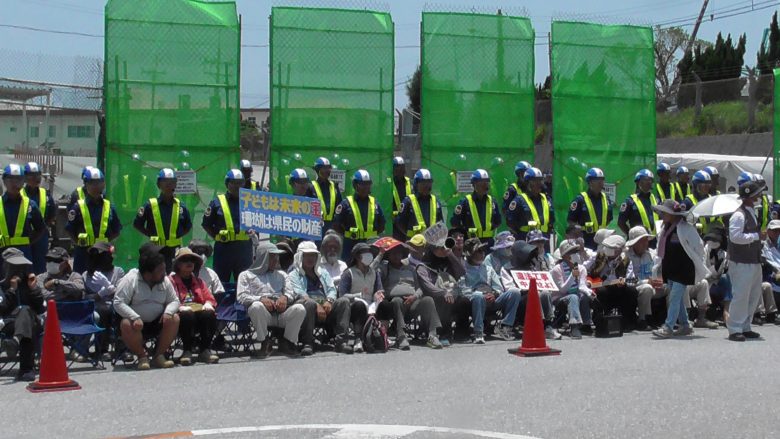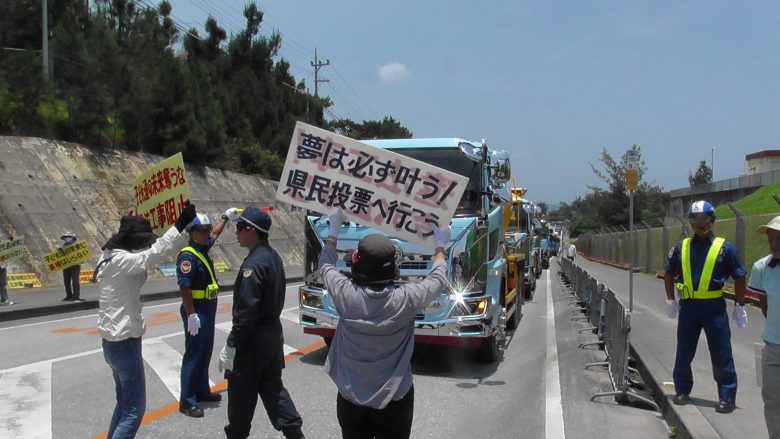 (On the Sea in Oura Bay)
Two boats and 12 canoes went out on the sea to protest. A beautiful weather, not like yesterday, and unloading at K8 seawall started early in the morning. Approximately 20 dump trucks were going back and forth many times from the seawall to Zones 2 and 2-1. Using K8 did really accelerated landfilling pace. Our protest slogans shouted outside the floats are several hundred meters away from the barges and hardly reach them. But we rallied all day long.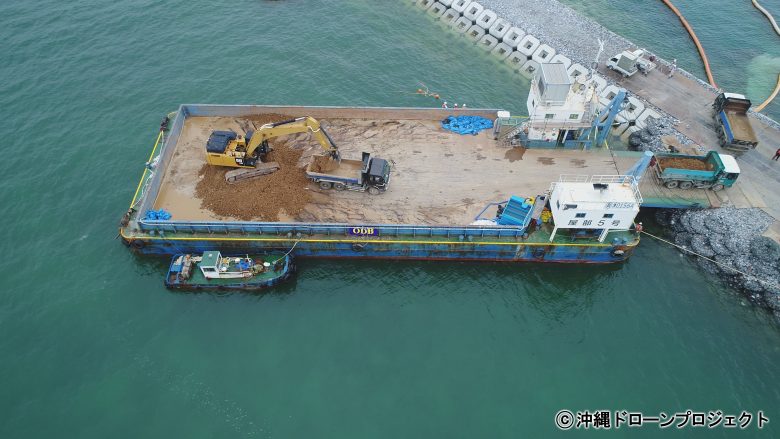 (In Front of Ryukyu Cement Pier in Awa)
Several tens of people protested in front of the Gate to the Pier, but no effect on transporting earth and sand within the ground of the cement company. More earth and sand, in addition to those already stored within the ground of the cement company, were delivered, and the amount equivalent to 595 truckloads were loaded to cargo ships. Three ships left the Pier for Oura Bay.
(Other)
Tamaki Denny Governor met with Iwaya Defense Minister on the 12th to protest strongly that unloading at K8 is not in the original construction plan and that landfill be stopped immediately. Iwaya Defense Minister said that "the Prefectural Government deals with the situation unique to them and the National Government deals with the situation unique to them" and insisted that the National Government has no intention of stopping the construction.
He previously stated in the national assembly in response to an inquiry by a non-ruling party member.
"Okinawa holds its unique democracy, and the mainland holds its unique democracy."